CES 2009: ASUS Eee PC T91 multitouch convertible Tablet PC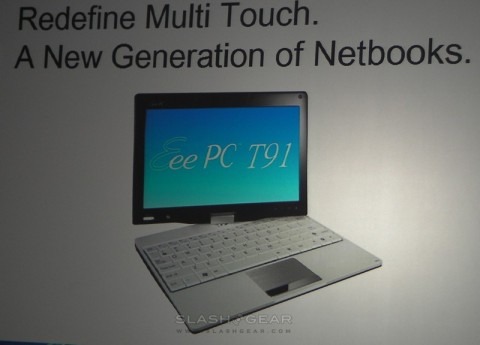 ASUS today demonstrated their new, multitouch-enabled Eee PC T91, the first convertible touchscreen netbook from the company.  Just 1-inch thick, the 2lb netbook has an 8.9-inch LED-backlit touchscreen display that can respond to input from more than one finger.
Under the hood there's an Intel Atom Z520 CPU together with an integrated TV tuner and GPS.  ASUS did not confirm other specs such as RAM or storage, but given the rest of the Eee PC range it seems likely that the T91 will be available with 1GB of RAM and a choice of solid-state and traditional hard-drives.
ASUS envisage the T91 as being used not just as a Tablet PC but as a GPS navigator in-car, a digital photo frame and a mobile TV platform, as well as a gaming system.  No pricing or availability details were given.