CES 2008 : The Slimmest 10 megapixel EXILIM from Casio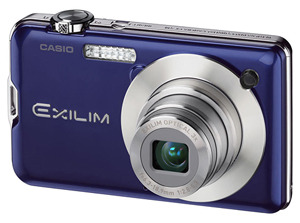 Benq DSC-X835 claimed the world's slimmest 8 mega pixel digital compact camera and now it is Casio turn. Casio EXILIM Card EX-S10 doesn't has the thickness of 12.5mm like Benq did but they bumps the resolution up to 10 mega pixel, packed in an ultra compact EXILIM series with the size of 3.7 x 2.1 x 0.6 in, that is about 15mm in thickness. So there you go, world's slimmest 10 megapixel digital camera.
The sleek and stylist EXILM doesn't have a image stabilization to calm your shaking hands but uses a motion blur detection technology to sense object or hand movement before taking the shot. Interesting feature but I prefer full time image stabilization instead. It has an optical 3x zoom with 35mm equivalent of 36mm-108mm distance with aperture of F2.8 to F5.3. The 2.7 inch wide display is a newly development super clear 230,160 dot high resolution LCD to improve viewing angle, brightness, color and contrast. Movie mode is also supported up to 848 x 480 resolution (UHQ Wide/HQ Wide, 30 fps) with feature like iTunes-compatible H.264 video. The EX-S10 will be selling at $249.99 with color options of Red, Blue, Silver and Black.
Casio EX-S10: World's slimmest 10MP compact [via dpreview]