CES 2008: SanDisk Cruzer Titanium Plus comes with online backup service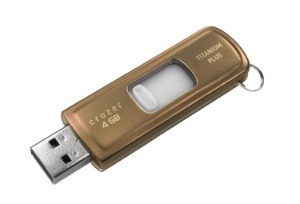 So at CES this year SanDisk, BeInSync, Amazon, and BoomerangIt will all be coming together on a fairly impressive flash drive. Sure, you might see the flash drive as what it is physically, four gigabytes of flash storage, but thanks to Amazon you get 6 months free of an equal amount of online storage, and thanks to BeInSynce those four gigabytes on the flash drive and the 4GB online will be the same.
So, you have a 4GB flash drive, and that comes with 4GB of online storage that the flash drive is backed up on in case you lose your flash drive. Furthermore, to make sure it gets back to you if you lose it, it comes with a BoomerangIt sticker and serial number so that if someone finds it you'll get it back.
But back to the backing up, the online storage also helps if you accidentally delete something off of your flash drive, because if you only have 3GB of data on your flash drive, then the extra 1GB of storage online will be used for files you previously deleted from the flash drive with the oldest files being deleted from the online backup the more you add to the flash drive. The flash drive itself will cost $60, which isn't bad for 4GB, and then you get the Amazon backup service for free for 6 months, and then it costs you $29.99 per year after that.
The flash drive also comes with the U3 set of apps. The BeInSync synchronization services only work with Windows and even then only Win 2k SP4, Win XP, or Vista. Also, deleted files from the flash drive are only kept on the online backup for 30 days, and the two can only sync if there is an internet connection, but if there isn't one, they will sync the next time there is a connection available.