CES 2008: Samsung's 128GB Solid State Drive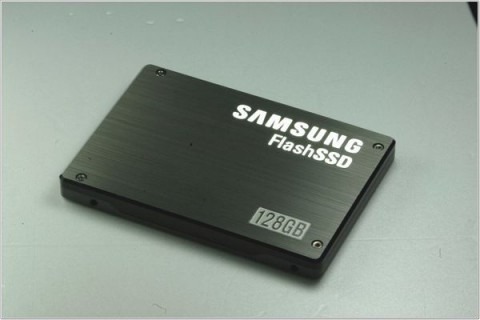 As solid-state drives (SSD) continue to move from PMPs and into notebook computers, manufacturers are pushing the limits so as to give picky customers as much room as they'd get on a traditional hard-drive.  Samsung is leading the charge, having announced a whopping 128GB SSD at CES 2008.
The drive will be produced in 1.5-inch and 2.5-inch versions, suitable for even the most compact ultraportable laptops (and PMPs, too), and boasts a data writing rate of 70MB/s – the industry's highest for MLC-based SSDs.  The data reading speed is even higher at 100MB/s, helped by the 3 gigabit-per-second SATA II interface and some nifty controller processing. 
Road warriors keen on eking out as much battery life as possible will be pleased to hear that the 128GB drive consumes just 0.5W when active.
Samsung will start mass-producing the SSD in the first half of 2008.