CES 2008: Parrot SK4000 Motorcycle Helmet Wireless Audio Solution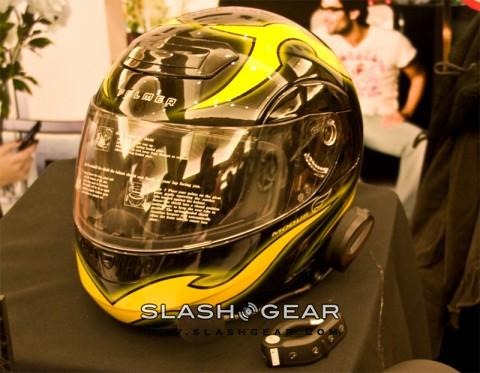 Check out this nifty little gadget from Parrot! It connects to just about any helmet because it has some pretty flexible mounting options. On the outside you have the mic and the majority of the hardware and then they were ingenious enough to move the speakers to the inside of the helmet and they give you several different options mounting that on the inside of your helmet.
Then, there is some wireless hardware that mounts to your handlebars that allows you to control the MP3 player of your choice, or the built in FM radio, or even better yet the phone functionality. This headset does the normal thing of playing your music and then muting it for the phone calls, but the phone features are where its at.
Once you pair your mobile phone, it will download (and constantly update) the phone book on your mobile phone, and it does two things with it, the first is it allows you to use voice commands to call whoever you want without having to program in voice signatures for all of them. The second is that you can have the device read your phonebook to you one at a time until you find the name you are looking for. All of the media functions and the phone functions are controlled by the device on the handlebar, and obviously, some of the controls are voice controlled. And it looks awesome, they demoed it for us, and it looked really easy to use, and they were smart enough to make the controls on the handle-bar attachment large enough and far enough apart that they could be operated with gloves on.