CES 2008: JVC Show Dual-iPod Speaker Dock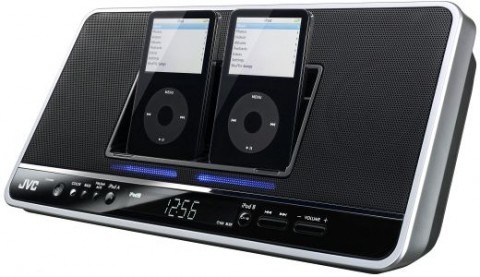 While JVC's NX-PN7 might look like a convoluted way to get stereoscopic vision from a couple of iPods, in actual fact it's a dual-PMP speaker dock that can recharge and play music from two of Apple's shiny devices.  Sadly the feature we'd really like to see – swapping music from one iPod to another – is forbidden by our fruity overlords, so we'll have to make do with an IR remote with "dedicated iPod control keys", an FM/AM radio and light-up strips that can change to any of nine colours.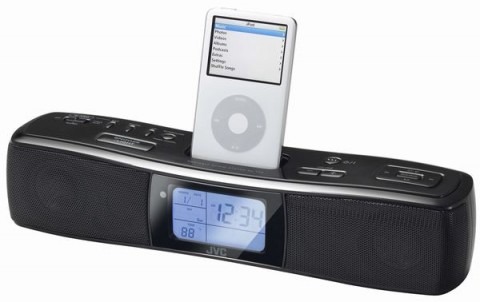 If you've no friends or loved-ones with iPods, or prefer not to share your speakers, then JVC's smaller RA-P31 is a simpler way to play your music out loud.  A single iPod dock, FM/AM radio and the option to power it from six AA batteries round out this compact stereo speaker-bar that measures a little over 12-inches long.
Both have auxiliary inputs for other sound sources, and will be available in April 2008.  The NX-PN7 will be priced at $149.95, the RA-P31 at $99.95.
JVC Press Release [via technabob]