CES 2008: Autonet Mobile Bringing Data Storage To Their In-Car WiFi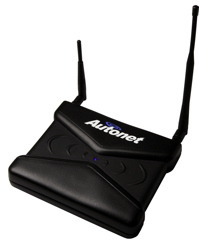 As if having constant access to an in-car WiFi hotspot wasn't good enough, they are nearly making their devices servers with the new ability to store downloaded stuff on their devices. I have no idea how much storage space you'll have, but hopefully I'll be able to find out more when I check out their tricked out Camry at CES 2008.
In case you didn't know, Autonet Mobile is the company that offers the WiFi routers for in your car that connects to the internet via Sprint's mobile broadband network. So, you buy the router, and then you buy a data plan from Sprint and you are off surfing the net in your car or limousine.
There was a big to do made about the company when their systems started being integrated into certain rental cars from Avis. But now they've taken it a step further with a new agreement with a chain of car dealerships in California that will now install the hardware for you in your new car.