Cellular South to get HTC Hero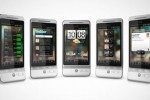 One of the most vocal opponents to the practice of giving major carriers like AT&T and Verizon exclusive handset deals is a smaller regional carrier called Cellular South. The carrier was one that complained to the FCC that exclusive deals meant smaller providers can't compete with larger national chains. Cellular South may not be able to get devices like the Pre or the iPhone, but it is getting a new Android handset.Cellular South has announced that it will be getting the HTC Hero Android device on its network. The provider hasn't specified an exact date that the Hero will be available. However, preorders for the handset will start on October 5.
Cellular South says that it plans to offer more Android handsets in the near future. It would be nearly impossible for you to not be familiar with the Hero, but in case you lived with wolves for the last few months here are the main specs. The device has a 3.2-inch HVGA touchscreen, Wi-Fi, GPS, accelerometer, and a 5MP camera with video capability. Pricing for the handset is unknown.