Cellfire and JCPenny team up for digital mobile coupons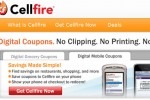 Mobile coupons haven't really caught on in a big way so far in America. The problem is that there has not really been a major retailer who embraced digital coupons and gave shoppers a reason to try them.Cellfire and JCPenny have announced that the two are teaming up for a large digital coupon trial program in Houston Texas. The trial will have the two firms placing digital coupon scanners in 16 stores across the Houston area.
JCPenny will offer mobile users coupons that they can download that are just like the print coupons that are sent to other customers. Once downloaded, the user can have the cashier scan the 2D coupon from their phone screen with the new scanners for the discount to be applied. The digital coupon program will run through the fall and holiday season.