CEDIA 2007 - Sony HES-V1000 Home Entertainment Server, is amazing, like Grace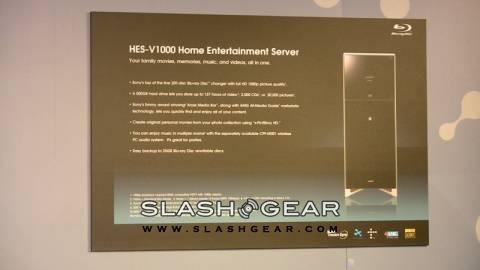 First, it has a half terabyte of HDD storage, then there is a 200 disc Blu-Ray/DVD/CD changer. It has full HD (1080p) output from the disc changer or hard drive.
The hard drive can store up to 137 hours of video, 40,000 songs, or 20,000 photos. This thing is also Sony's first device not connected to a computer that's Blu-Ray capable other than optical drives and a few VAIO notebooks.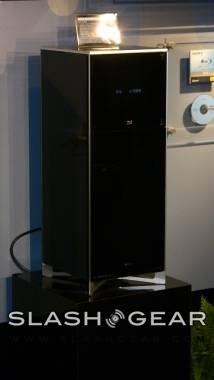 It also burns Blu-Ray and DVD discs from the content stored on it. The home entertainment server also connects to a network to collect meta-data for the media in its disc changer and for firmware updates.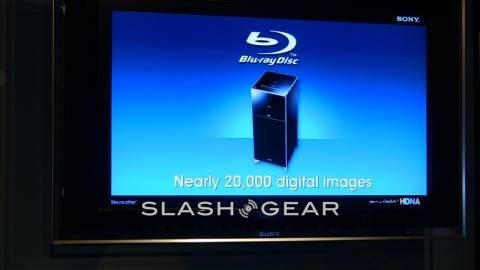 The server also has tons of integrated software too, first there is the x-Application software, which is x-Pict Story HD and x-ScrapBook for photo slideshows and other presentations. Then there is the XMBTM or XrossMediaBar which makes navigating through all your content a breeze. With a separate wireless adapter you can also stream your media throughout your house through up to 10 registered devices with 4 streams at once thanks to the Digital Living Network Alliance or DLNA support. The DLNA support works with the PS3 and a few VAIO notebooks and if I remember right there was a standalone unit that you could get for other computers to support DLNA.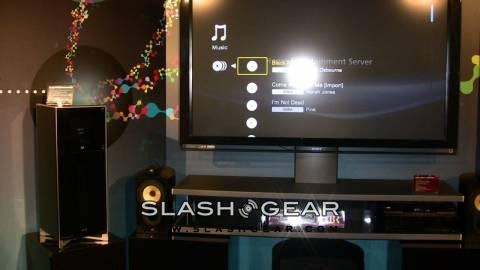 Another thing is that it looks amazing, it is a reflective black tower with dimensions of 12.25x31 5/8x15 7/8 inches. All the controls on the actual cabinet are backlit and touch sensitive and the display is viewable from either the top or the front.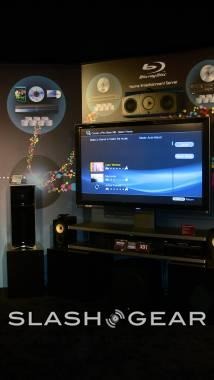 There are tons of connectivity options too, other than the Ethernet and optional wireless, there is S-Video, composite, audio and HDV/DV(i-Link) inputs and HDMI with BRAVIA Theatre Sync, component, optical, coaxial, and analog out's. There is even a card reader that supports MS, SD, CF, and xD memory cards.
Now comes the only downside of this amazing machine, the price, it's a fair one for all it does, but its $3,500. It will be available from Sony's online store, authorized retailers, Sony's retail stores, and military bases.