CECT m188 mini: no, honest, it's the iPhone nano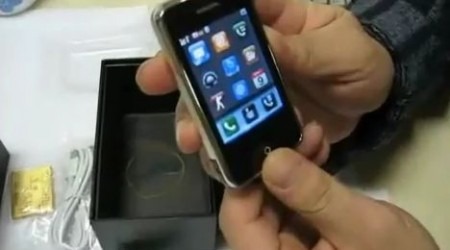 Hang on, I hear you cry, is that an unboxing video of the mystical iPhone nano?  Why no, sir, don't be so foolish; of course it isn't.  In fact, it's Chinese knock-off merchant CECT's latest faux-phone, the CECT m1888 mini, as small as a credit-card (as long as you don't turn it sideways and see that it's actually as thick as a first-gen iPhone). 
Specs include triband GSM (900/1800/1900) with GPRS and dual SIM card support, together with a 2.6-inch resistive screen.  CECT have "borrowed" Apple's UI, but those who critique the iPhone's 2-megapixel camera will find themselves dumbfounded by the m188 mini's 640 x 480 resolution snapper.
There's also Bluetooth, an audio/video player and FM radio, which can record to the handset's 512MB of internal storage or up to 4GB of memory card.  It's available through eBay and Bigboxstore, who shot the unboxing video below, for around $103.
[via The Raw Feed]