Catalog crash: SkyMall files for bankruptcy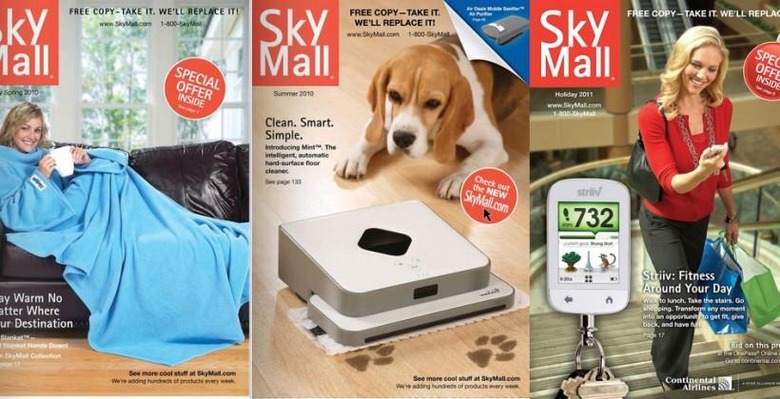 SkyMall, the catalog which has entertained, bemused, but apparently not made quite enough money out of airline travelers over the past years, has filed for bankruptcy, potentially leaving a gaping loss in our seat-back pockets. Parent company Xhibit Corp announced its financial situation today, filing for Chapter 11 bankruptcy and at the same time requesting permission to at least attempt to sell off SkyMall's online business and most of its other assets.
Chapter 11 bankruptcy would allow Xhibit to continue operations, albeit with a court-appointed monitor in place, rather than go straight for liquidation as per Chapter 7 bankruptcy. It's possible that, with sufficient restructuring, the company could emerge from it stronger on the other side.
However, that would presumably involve divesting itself of SkyMall in the process, and the future for that division is unclear.
SkyMall and Xhibit merged back in 2013, at the time claiming the catalog company's products were seen by 650 million viewers and that its loyalty scheme had more than 135 million members. The catalog began twenty five years ago, subsequently expanding to online sales as SkyMall attempted to carve out its own share of the internet market.
That clearly hasn't been going as well as hoped. SkyMall's product range varies from the bizarre through the mundane, encompassing everything from life-size plastic Yeti for your garden, though a surprisingly-wide selection of pet beds, to gadgets of varying usefulness.
Reaching the sheer number of flyers that SkyMall does – the company claims around 88-percent of US domestic flights have a copy of the catalog in each seat-back pocket – is certainly unusual, but the rise of in-flight internet and promotions like eBay's deal to make accessing its auction pages free while in the air show that the company doesn't have the space to itself any more.
VIA WSJ
SOURCE Xhibit Corp