Cat S52 is built like a tank but doesn't look like one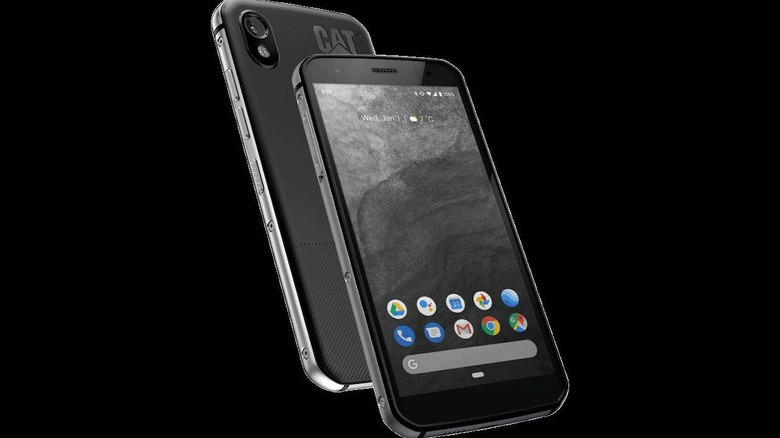 For those in the industrial sector, the brand Cat is more known for its heavy machinery. In the smartphone sector, it is known for smartphones that are built like tanks and also look the part. Such rugged phones aren't exactly rare these days and they can come from brands like Panasonic or even Samsung. What sets this new Cat S52 apart is that it doesn't immediately strike one as a rugged phone but, instead, calls to mind older, bulkier phone designs.
In fact, you wouldn't be mistaken if it reminded you a bit of the iPhone 5 design, albeit larger and, of course, on an Android phone. The large bezels and flat aluminum edges give off a "classic" vibe. The back, however, has a hard-wearing, non-slip rubberized TPU material that does break that illusion of a classy premium phone.
Despite the looks, the Cat S52 is still as rugged as any of its predecessors. That means an IP68 dust and water resistance rating and MIL-STD-810G shock and temperature resistance certification. And for the one part that always exposed to the elements and your fingers, Cat makes use of the latest Gorilla Glass 6 for scratch resistance.
Unfortunately, the Cat S52 won't exactly match up to expectations in terms of performance. It is your typical mid-range phone, running on a MediaTek Helio P35 processor with 4 GB of RAM and 64 GB of thankfully expandable memory. The 5.65-inch screen, which is tiny in comparison today's phones, only has a 1440x720 resolution. There's only one 12 megapixel camera on the back but it is joined by a fingerprint scanner, the first in any Cat smartphone.
The Cat S52 does have a price to match, selling for 499 EUR (roughly $554) in Europe. Granted, there are rugged smartphones with better specs but those often cost twice and are unmistakably rugged as well. Then again, more and more premium flagships that are adding military-grade ruggedness to their IP68 ratings so Cat's advantage is slowly becoming moot.