Castle Crashers Remastered hits Switch and PS4 this year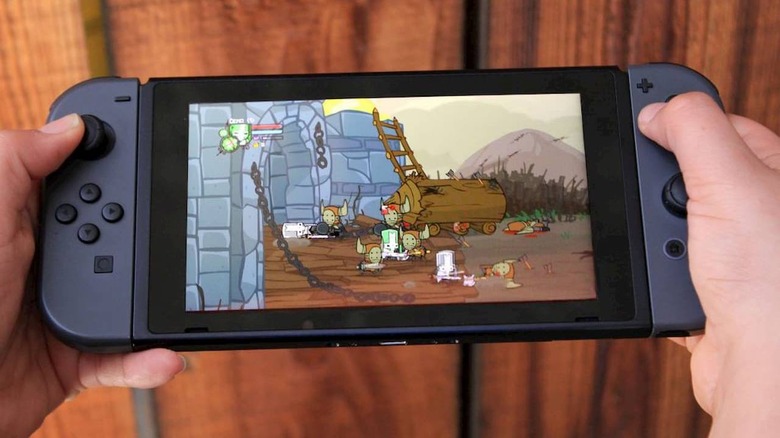 It's hard to believe that it's been more than 10 years since Castle Crashers first found its way to Xbox 360. In the time since then, it's found a lot of fans on a variety of different platforms, and developer The Behemoth announced today that it isn't quite done porting the game to new consoles yet. Castle Crashers Remastered, which launched for Xbox One and PC back in 2015, is heading to Switch and PS4, and it'll arrive later this year.
Of course, this is an announcement many of us probably already guessed was coming. Last week, The Behemoth started teasing this announcement on its social media accounts, first posting an image of four Joy-Cons sporting the colors of the original four knights, then later doing the same thing with the light bars on four PlayStation 4 controllers.
Regardless of whether or not we were expecting this announcement, Castle Crashers Remastered has now been confirmed for both platforms and will be launching sometime this summer. In a blog post, The Behemoth ran down the list of improvements the remastered version offers over the original.
Alongside the base game and all of the previously-released DLC content, Castle Crashers Remastered includes the "Back Off Barbarian" mini-game. The remastered edition also includes overhauled textures that are five times larger than the textures in the original game. The game runs at 60 frames per second on both Switch and PS4, and it'll serve up a bunch of non-specific bug fixes for both the standard campaign and online multiplayer. On Switch, the game will support HD rumble and local four-player gameplay using Joy-Cons, while PS4 will be getting that light bar support that was teased last week.
The Behemoth closed out its blog post by teasing the upcoming reveal of "Game 5," which is "hopefully" happening at some point later this year. While we wait for the company to get that reveal ready for prime time, we'll keep an eye out for more information on Castle Crashers Remastered.