CastGrabber Podcast Downloader requires no PC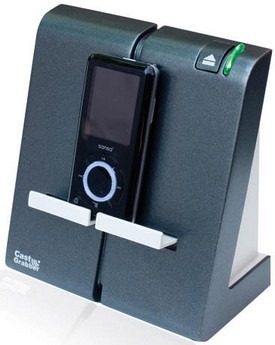 If you like listening to podcasts while on the go or even while just lounging at home, a new device called the Castgrabber is geared toward making listening to podcasts a super easy experience that requires no PC computer to hook up to.
The Castgrabber Podcast Downloader connects itself to the Internet automatically in order to download your favorite podcasts onto your PMP. A connection to the Internet is all you need. This takes some of the complication out of the process with syncing and all. All you have to do is select what you want to listen to through iTunes or your web browser.
It's easy to install, works with iPods and most MP3 players and can even charge your MP3 player while you're listening. It's hard to say just how practical a device like this would be, but it would seem to cut down on time spent trying to synchronize your podcasts and fiddle with settings. The Castgrabber can be yours now for $119.95.