Cassini spacecraft spies massive vortex on Titan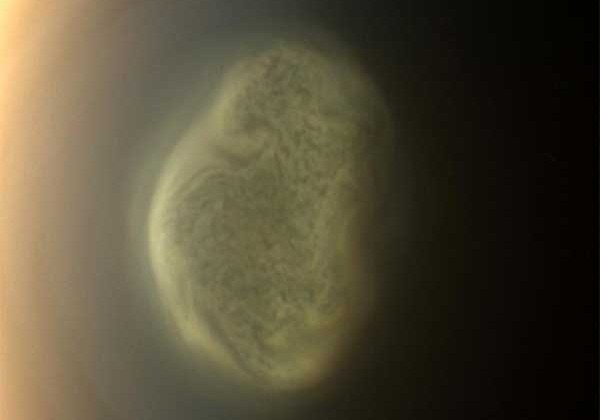 NASA's Cassini spacecraft took a photo during a flyby of a massive vortex on Saturn's moon Titan. The photograph was taken on June 27 this year and released this week. The massive milky cloud shown in the image is a South polar vortex on the surface of Titan. The vortex is a mass of swirling gas around the pole of the atmosphere on the moon.
NASA says that the high-altitude haze in the vortex at the South Pole signals that the seasons are changing on Saturn's largest moon. The first sign of haze starting to concentrate over the moon's south pole were noted in March. The image you see above is a true color image taken in visible light.
NASA says that the vortex is similar to open cellular convection often seen over the oceans here on earth. However, on earth these layers are just above the surface of the ocean and on Titan, the vortex is a very high-altitude, about 200 miles above the surface of moon's South Pole. The scientists believe that the vortex could be a response of Titan's stratosphere to seasonal cooling, but that is unconfirmed.