Casio unveils new EX-H50 and EX-ZR1000 digital cameras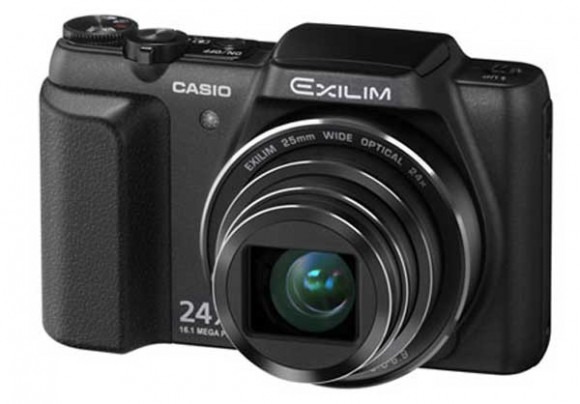 Casio has pulled the wraps off a pair of new digital cameras for its EXILIM line of point-and-shoot offerings. The new cameras include the EX-H50 and the EX-ZR1000. The first camera is the H50 with a resolution of 16.1-megapixels. The camera uses a 1/2.3-inch square pixel CCD and has a 24 mm wide-angle lens.
That lens supports 24x optical zoom, and the camera has a three-inch monitor on the back for viewing images. Casio integrates CCD-shift image stabilization, and the camera has a number of auto modes for taking quality photos and offers eight photo effects. The camera can also record 720p HD resolution video. Pricing and availability of the camera are unannounced.
The other camera is the ZR1000 also featuring a 24 mm wide-angle lens. The camera offers 12.5x optical zoom and has a tilting LCD on the back for better visibility. The camera is powered by Casio's EXILIM Engine HS with the goal of eliminating lag time, blur, and camera shake. Casio promises the camera will start up in less than one second.
The camera also features a high-speed night shot mode that eliminates camera shake in dark environments supporting up to ISO 25,600. Casio gave the camera and the ability to shoot 30 frame bursts at six frames per second. The camera also has a macro mode for shooting objects close to the lens and supports HDR technology. It also has a number of automatic functions and artistic filters. Pricing and availability are also unannounced for this camera.