Casio Smart Outdoor Watch 2 comes with Android Wear 2.0, GPS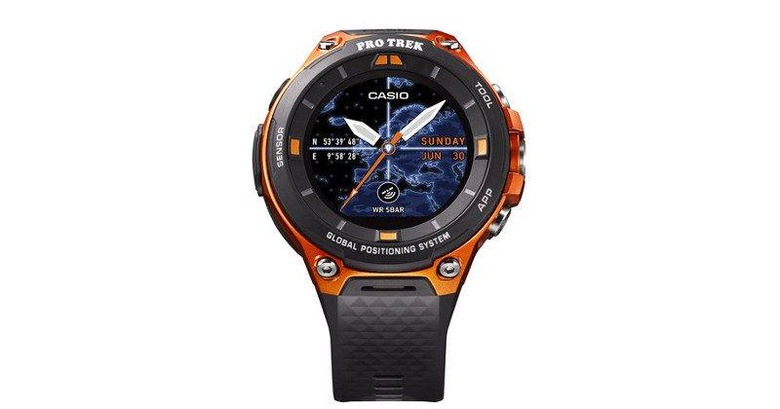 If you ever needed proof that Android Wear is still alive, Casio just gave one. Somewhat. Almost exactly year after it announced its first smartwatch, the WSD-F10, the famed watch maker is announcing its second Smart Outdoor Watch, the WSD-F20. And while the big new feature here, at least as far as hardware is concerned, is the addition of GPS functionality, smartwatch enthusiasts might be a bit more interested in its software. That's because the WSD-F20 is coming with the already delayed and somewhat doubted Android Wear 2.0.
The next major version of the Android Wear platform was supposed to have launched in the last quarter of 2016. Google, however, put on the brakes at the last minute and rescheduled the rollout for "early" 2017. The delay has caused some smartwatch makers to rethink their commitment to the wearable platform. Casio, on the other hand, didn't seem to be fazed by it.
Casio isn't your typical Android Wear smartwatch anyway. While most try to appeal to fashion taste buds, the Smart Outdoor Watch squarely sits on the sports side of the fence, both in its design and companion apps. With the addition of GPS and offline color mapping, the WSD-F20 becomes just as useful and usable even when the smartphone is left at home. Those maps, provided by Mapbox, can be downloaded onto the smartwatch directly before hand and then just let the GPS do its job in tracking your location.
Just like its predecessor, the WSD-F20 was built for punishment, with button guards and protective bezels to keep the watch from breaking apart during your workouts. It is also water resistant, up to 50 meters, and meets the MIL-STD 810 shockproof certification.
Of course, it is also a smartwatch, powered by Android Wear 2.0, so you get your usual mix of notifications, customizable watch faces, and apps. In fact, with Android Wear 2.0, smartwatch apps become even more independent, just like this watch. The Casio Smart Outdoor Watch WSD-F20 is scheduled to launch 21st April. Hopefully, Android Wear 2.0 won't take that long to launch. The first WSD-F10 is promised to get the latest Android Wear version by Spring.