Casio Pro Trek WSD-F20 Android Wear Smartwatch Now Available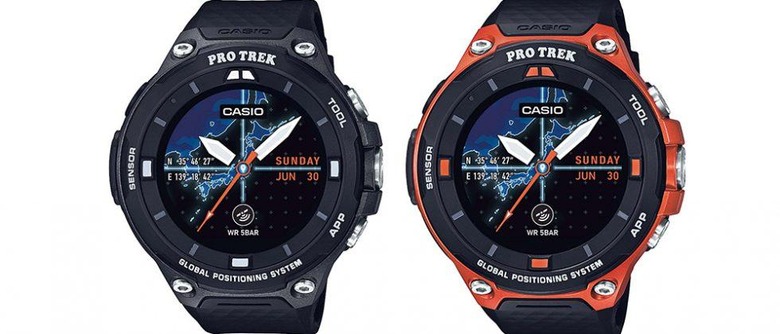 Casio has announced the launch of its WSD-F20 smartwatch, a wearable first unveiled during CES 2017. This smartwatch features Android Wear 2.0 and comes in two varieties: one that is black and another that is orange. This model is hawked under the Casio PRO TREK Smart Outdoor Watch name, and it is designed to handle one's adventurous outdoor activities, including ones that involve water, hiking, and more. Both versions of the watch are available now.
The Casio WSD-F20 has a sporty design that highlights its outdoorsy nature. The watch has a bunch of features that will appeal to hikers in particular, including full-color maps and support for offline map usage. Both features are complemented with GPS functionality, the combination of which helps wearers navigate outdoors using the wearable itself. The GPS feature is said to be low-power, helping keep battery usage minimal.
Users will, of course, have to download the maps to the watch before heading out to locations where connectivity is unavailable. Via the GPS, the watch will keep track of the wearer's location on those offline maps, all the while recording the path the wearer takes so that it can be accessed later on.
Users can mark sports on the maps as they travel, and can also add notes to places on the map using speech. If the wearer ends up revisiting a spot they've previously marked or left a note at, the watch will prod them with a reminder. Users are able to set up alerts for things, as well, such as when the sun will rise and set, when it is time to take a break, when it is the best time to fish, and more. Users are able to change the map's design, wear the watch in water to depths as deep as 50 meters, and use the watch for up to two days before having to charge.
The watch is available now from Casio's website for $500 USD.
SOURCE: PRNewswire