Casio G-Shock ultra-hardcore smartphone revealed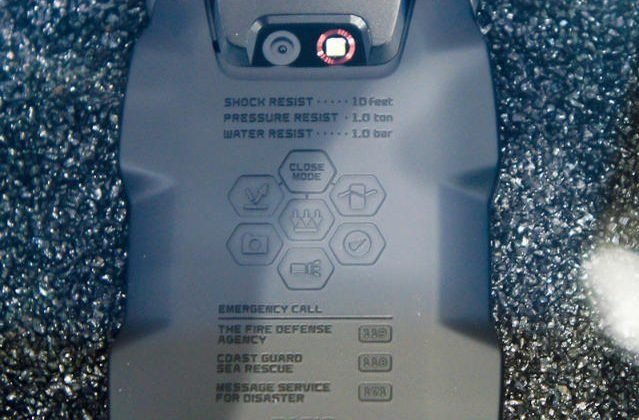 It should come as no surprise that this device was all but overlooked at CES 2012 as its predecessor, the Casio G'Zone hasn't exactly seen its fair share of press or success in the market (on Verizon.) That said, this device has a few one-ups on its predecessor, including perhaps most importantly the "G-Shock" branding, straight off Casio's ultra-popular wristwatch line by the same name. The G-Shock smartphone will be running Android, has a camera on the back, and will likely be near-impossible to break.
For those of you that love hardcore electronics, congratulations, you've found the king of the crop. At the moment this prototype is said to be shock resistant up to 10 feet, water resistant up to 1.0 bar (that being 10 meters), and pressure resistant up to 1.0 bar. You can smash this one, folks, drop it from on high into the watery depths where it hits a rock and comes back to tell the tale! That's what's going on here, hardcore people.
You've got a metal back casing, the rest is made of plastic with resin around the edges to keep you bumping, and the front is some sort of reinforced glass. Probably Gorilla Glass up there but you never know. The camera on the back has a flash and we're probably going to see Android 2.3 Gingerbread right out of the box, regardless of when this smartphone is launched inside 2012. Seeya then, bikers and hikers!
[
G-Shock Zone]