Casio's G-Shock watch line has a strong pedigree and an equally strong following, ranging from affordable models for those who simply want to pay a little and get a sturdy, shockproof timepiece all the way to more expensive, feature-packed models. We've two such extremes on the SlashGear testbench today: the gravity-shunning Casio G-Shock GW-3000 and the sub-$100 G-Shock GA-100. Check out the full review after the cut.
The Casio G-Shock GW-3000 fall into the company's new "Gravity Defier" range, and while that might sound like they'll make you float, in actual fact they're capable of resisting centrifugal gravitational force. Aimed at aviators who might require a watch that can withstand up to 15Gs, that doesn't mean regular people like us won't find some appeal; having bumped the chunky timepiece on a few occasions, we particularly appreciated the raised urethane bezel which helps protect the watchface.
Casio have three versions of the GW-3000: the GW-3000B with a resin strap and the GW-3000D and 3000BD with silver or black metal straps. All three are solar powered yet also automatically check themselves against radio wave broadcasts and adjust for accuracy. A particularly sharp bump, which might knock the hands out of alignment, can also be automatically corrected without your needing to open the watch up and tweak with tweezers.
The rest of the functions are pretty much par for the G-Shock course, with 29-zone world clock, stopwatch, daily alarm, day/week display and an automatic calendar. Casio reckon the GW-3000 can last for almost two years on a full charge, though the display will automatically shut off to save power in the dark. The resin-bodied GW-3000B is also reasonably light, at 74g (the metal versions are 148g). Despite the fact that there's no shortage of information on display, the GW-3000 is suitably glanceable with big, bright numbers (orange in our review model, but they also do blue and green).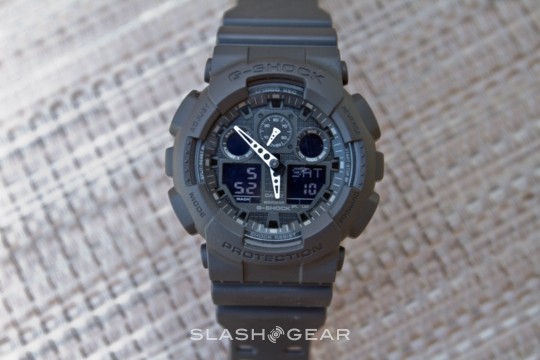 As for the Casio G-Shock GA-100, looking ominous all in grey, that packs both analog and digital displays, a 29-zone world clock, five independent alarms, stopwatch and countdown timer and day/month/year display. It's also anti-magnetic along with – as you'd expect – shock-proof, and can be used underwater to up to 660 feet (200m).
Casio bill the GA-100 as having "auto LED lighting", though we found we still preferred hitting the button ourselves. We also can't help but wish Casio had fitted brighter LEDs, too; the watch's face is pretty gloomy, and the standard lighting only goes part-way in addressing that. Similarly, while the analog dial has luminous markers at each of the hour points, the watch hands themselves do not.
Still, the buttons are sizeable and easy to hit, and it's a considerably cheaper timepiece than the G-Shock GW-3000 at around $99. The matte finish surround and resin strap proved scuff-resistant, and while it's undeniably chunky we didn't worry about accidentally knocking it. At 70g it's surprisingly light, too. On a level playing field we'd rather the solar convenience and glanceable face of the G-Shock GA-3000, but at around $260 for the resin-banded 3000B (or $350 for the metal-banded versions) our wallet would lean toward the GA-100 instead.