Casio EXILIM EX-FR10 can split up for "freestyle shooting"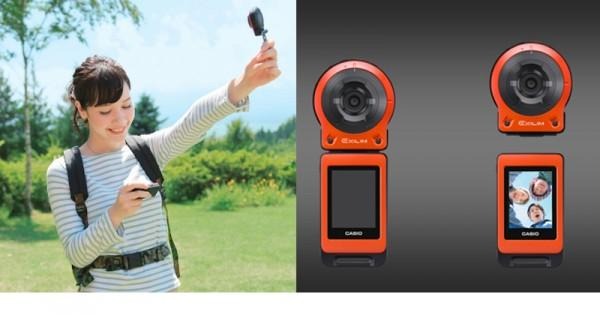 You may have heard or even seen for yourself the new generation of selfie-friendly digital cameras, but none of those probably have anything on Casio's newest wonder. The EXILIM EX-FR10 transcends the camera maker's previous selfie-centric EXILIM TR line by introducing a camera that can be split into two parts to make it easier to take photos in almost any angle or distance. And yes, that includes selfies, too.
In terms of raw specs, the EXILIM EX-FR10 might pass for a decent digital camera. It has a 14 megapixel f/2.3-inch CMOS sensor equipped with backside illumination (BSI). The lens has an aperture of F/2.8, equivalent that of a 35 mm film. In terms of autofocus, it uses the Contrast Detection type. It can capture still shots as large as 4320x3240 and video recording maxes out at Full HD at 30 fps.
The most interesting feature of this digital camera, however, is its split personality. It is essentially made up of two parts: the standalone camera unit and the controller that also houses the 2.0-inch 230K-dot LCD capacitive screen. The camera itself has a shutter button so it is very much self-sufficient aside from storing the photos. The real magic, however is when you use the controller to trigger the camera unit via Bluetooth. This allows users to take photos from a distance, reach almost impossible angles, and, of course, take more convenient wefies (group selfies). Accessories such as a neck strap, a belt strap, and a tripod also expand the uses of this split camera mode. Of course, you can still use the EXILIM EX-FR10 like a regular camera, either docked in a portrait and selfie-friendly formation or just like a simple, regular digital camera.
Aside from that, the digital camera also has other interesting features, like IPX6/IPX7 water proof and IP6X dust proof rating. It also has some software built in that can produce highlight collections to make those captured memories even more memorable. Highlight Photo can create a single collage made up of photos taken from a specified date while Highlight Movie creates a short video clip of similarly selected photos. Both have options for layout, effects, and transitions for added drama. With Bluetooth and WiFi connectivity, users can also send their captured photos or videos to a paired mobile device or simply view them there without transferring the file.
The Casio EXILIM EX-FR10 is set to go on sale starting September 12, available in Green, Orange and White flavors. The price for this curious contraption is expected to be around 50,000 JPY, roughly $480.
SOURCE: Casio
VIA: Digital Camera Watch