Cartesian The EX1 3D-Prints Circuit Boards For Wearables Galore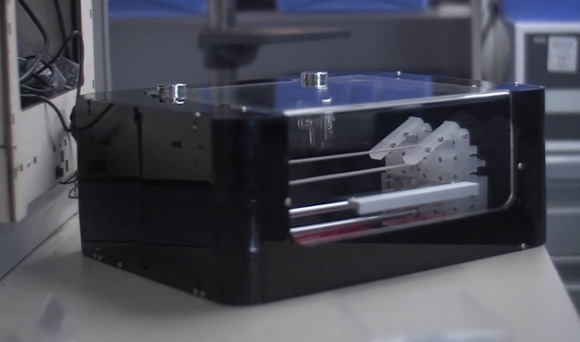 Supposing you were in the market for a prototype of a circuit board here in 2013 – what kind of process would you have to go through to get one? Certainly one that'd require one whole heck of a lot more work and waiting than is involved with the rather interesting creation revealed this week by Cartesian Co – a printer called "The EX1", one capable of printing circuit boards as easily as you'd be able to print a 3D object here on the tail end of 2013.
When you work with a 3D printer, you come to realize that even this technology is not nearly so limited as it was only a year ago – especially when it comes to materials with which you'll be printing. What you've got with The EX1 is a very similar situation, working with printing materials only (nearly) limited by your imagination. What you're doing here is 3D printing circuit boards – "layering silver nano particles onto any suitable surface to rapidly create a circuit board."
Sound simple enough?
UPDATE: This machine is headed – rather quickly – toward a Kickstarter goal of $30,000 USD. At the time this update is made, the team will have already reached a cool $17,585 of their goal – they've only begun this morning!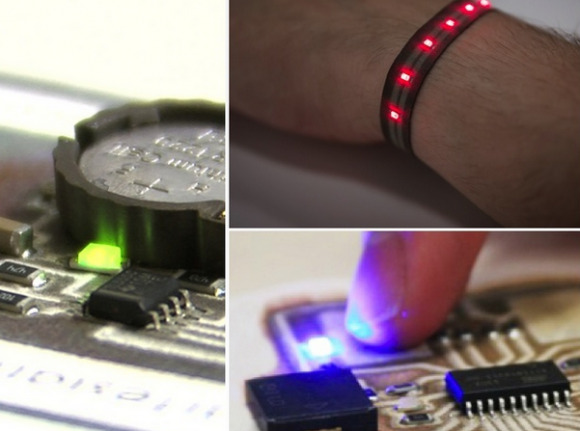 What you'll use this device for is printing the connections between computer parts on a flat surface. What you'll see in the image below is a set of examples of what this could be used for – printing on extra-super-thin surfaces both rigid and flexible. Especially in this wearables-crazed present state we're in now, this printing ability is especially compelling.
The EX1 allows users to print circuits onto synthetic fabrics – one example made by the creators at Cartesian is a binary watch printed on a fabric made of 97% polyester, 3% spandex. This particular watch runs none other than the fan-favorite Adruino and kicks out the jams with a simple (comparatively massive) battery. Simple as can be.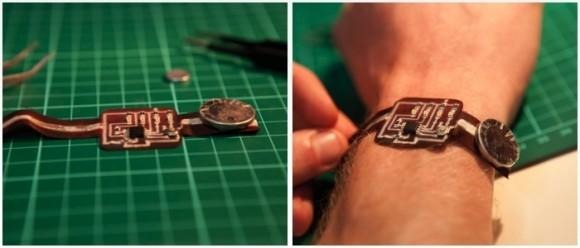 This printer works with a combination of chemicals laid down on the surface of your choice. These chemicals mix to create silver nano particles which connect all your little computing bits and pieces like any board you've worked with in the recent past – to put it as bluntly as possible. The actual printer is 43 X 32 X 17cm (17 x 12.6 x 6.7in) in size and weighs in at a tiny 6kg (13.5lb).
"There is a real barrier into the world of complex circuitry, and Cartesian Co. wants to make electronics accessible for the every day person – giving them the power to bring their ideas to life through creativity and experimentation. We've been thinking about how to design a printer that creates circuit boards for four years now and developed the EX1 over the last 9 months, and we hope the Kickstarter community will feel as passionate about the project as we do." – Ariel Briner, Co Founder and Head of Electrical Design at Cartesian
At the moment it would appear that actual shipping of the first batch of these printers will be taking place in July of 2014. The team at Cartesian will be finishing up all development and ordering test printers as early as January of 2014 – until then, they're welcoming any and all questions and suggestions galore. Make with the chatter!
VIA: Cartesian Co.