Cardhop breathes life into the dead 'contacts' app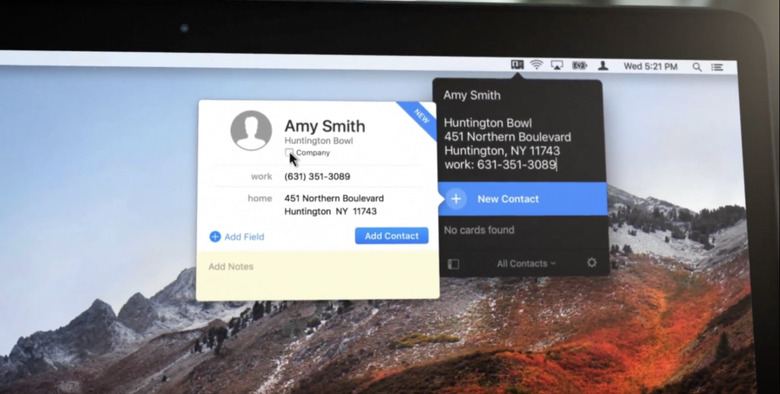 We shouldn't ignore the obvious: managing your contacts are boring. Chances are, if you dip into whatever app/service(s) you use to corral your contacts now, it's an unruly mess or duplicates and misinformation. Somehow, contacts never quite made it past a pretty static SQL database, on the backend or via an app. A new offering hopes to change that. From the same team that improved the calendar comes Cardhop for Mac, and it has big ambitions.
Cardhop lives in your Mac's menu bar. There's no overblown 'contacts' app replacement, mostly because the team at Flexibits doesn't see the need for it. To access it, simply click on it, or choose a customizable hotkey command.
Once you do, the real intrigue begins. What looks like a benign contacts app is really more management than a list of who you know. You can add info, or simply launch straight into a video or text chat with someone.
An example: typing "email Nate" into the solo input field first surfaces contacts named Nate, and emails associated with them. You can distill that further by adding a last name, or designating which email address you want to send to. Once you've chosen the right person and email, it launches straight into your system's chosen email provider so you can type an email and send it along.
The aim is simplicity. Rather than Click on email, wait for it to launch (yeah, Cardhop works if the email client is dormant), type in an email address, hack out an email and hit 'send,' Cardhop avoids those steps via a single Menu Bar icon and text entry field.
It also works for Messages, Skype texts or calls, Twitter @-mentions, and FaceTime video or voice calls. It supports Apple's continuity and Wi-Fi calling as well.
Should you try to find someone you haven't yet added to your contacts, Cardhop just jumps right into adding them. You can even type 'email' followed by – well, their email address – after their name and Cardhop knows what you're referencing. It lets you choose which account you want to add the person to, and is organized and skinned much like Apple's own contacts app, replete with a 'notes' field. It can also appreciate when you're trying to add a new email, phone number or bit of info for an existing contact. As you can see in the video above, it also supports copy/paste, directions, and emailing groups.
It's not perfect. Cardhop doesn't let you do things like merge contacts, and entering multiple fields in the text entry box (like two email addresses) for a new contact can cause it to crash. But it's far and away the best thing to hit 'contacts' in a long time.
Cardhop is also a passion project. It's been on the back-burner since 2011, after Flexibits found success with Fantastical. In focusing on their work there, the team didn't have much time for Cardhop, but never forgot about it.
They tell me it's meant as a Mac-only offering, which is understandable. If there's any place a powerful client like Cardhop makes sense, it's the desktop. It's also a bit more useful there; a simple click or keyboard command gets you right into a multitude of apps, and lets you quickly get hold of people via your preferred method. Your boss may prefer Skype, while your spouse is on iMessage. Fiddling with multiple apps and discussions is always going to be with us, but Cardhop knocks down the barrier to entry, which might be its ultimate strength.
Cardhop is out today via the Mac App Store. On launch, it'll cost $14.99, and will eventually settle at $19.99. If you're wondering why you should consider paying for Cardhop, I'd ask you to consider how many people you contact in a day and how clumsy your existing contacts list is. If you're like me, the answer to both those considerations is well worth $14.99.