Capcom Home Arcade serves up a unique twist on retro consoles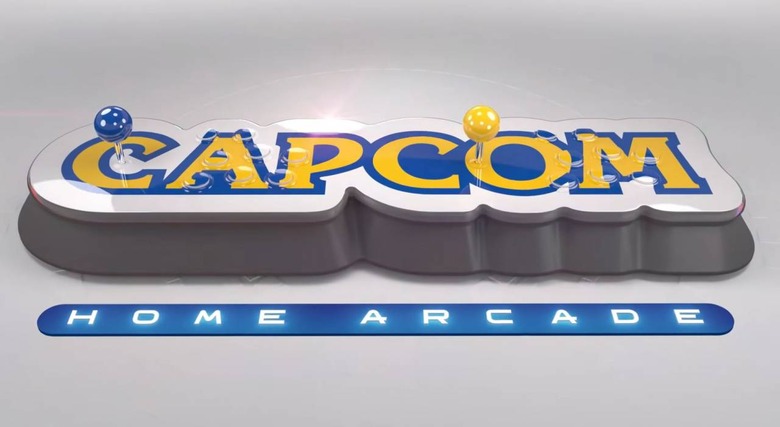 Thanks to the success of the NES Classic and SNES Classic, a lot of companies seem to have taken an interest in making retro consoles of their own. The latest is Capcom, which is in the curious position of having plenty of classic games to offer nostalgic consumers without ever actually producing a console. It does have plenty of experience with arcade cabinets, however, so it's taking that history to create one of the most unique retro consoles we've seen yet.
Today, Capcom announced the Home Arcade, a retro console that takes for the form of the familiar Capcom logo with two arcade fighting sticks built-in. It's certainly unlike anything we've seen before in the retro console space, but beyond that, it's a pretty wild take on fighting sticks as well.
As you might have been able to tell from the name, Capcom Home Arcade comes with packed with 16 classic arcade titles. All of them were published by Capcom back in the day, and the company says that all of them hail from the "golden-age of arcade gaming." Have a look at the titles that are included in the list below:
• 1944: The Loop Master
• Alien vs. Predator
• Armored Warriors
• Capcom Sports Club
• Captain Commando
• Cyberbots: Fullmetal Madness
• Darkstalkers: The Night Warriors
• Eco Fighters
• Final Fight
• Ghouls 'N Ghosts
• Gigawing
• Megan Man: The Power Battle
• Progear
• Street Fighter II: Hyper Fighting
• Strider
• Super Puzzle Fighter II Turbo
As good portion of those are fighting and beat 'em up games, the two controller layout on the Home Arcade certainly makes a lot of sense. The Home Arcade is a plug-and-play console, so all you'll need to do is run an HDMI cable from the it to your TV and power it through a USB power supply and you're off to the races. It also uses a pair of Sanwa competition class control sticks, so it sounds like Capcom is going all out with the Home Arcade.
It'll be out in Europe on October 25th, 2019, but unlike other retro consoles, this one will cost a fair amount of money: €229.99. It's up for pre-order now on Capcom's European store, with the company promising that details for North America will be coming around the been soon. We'll be keeping an eye out on those and we'll update you when we hear more, so stay tuned.