Canon releases Manual for EOS 5D Mark II- A look at Video features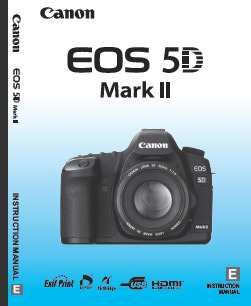 The latest development is still late November before you can get your hands on the revolutionary EOS 5D Mark II. While we wait patiently for our unit, the manufacturer has released a complete manual for the year most anticipate release in Digital Cameras industry, stills and motions- a game changing camera, said the reviewer.
In previous coverages, readers have raised questions mainly on the video features such as exposure control and recording capacity. We flipped though 228 pages of goodies and listed the answers here.
On technicality, the manual doesn't reveal HDMI output specification, a 4:2:2 10 bits or 8 bits uncompressed left unanswered but is definitely better than 4:2:0 AVC.
A faster (preferably 8m/s or higher) and large capacity of CF card may require for full HD recording or playback.
Maximum recording size is 4GB per file or movie time exceeds 29 minutes and 59 seconds.
Continue Recording modes are approximately 12 minutes for 1920x1080 (Full HD) and 24 minutes for 640x480 (SD) for 4GB CF card.

A fully charged battery lasts up to 90 minutes of recording shooting at at 23C/73F or 80 minutes at 0C/32F.

You can trigger movies capture in all shooting modes, namely Green Box, P/TV/AV/M/B
External flash will be disabled during movie shooting
Camera controls ISO value from 100-6400 and sound recording level
Scene Metering will be using Center-weighted average for exposure, otherwise Evaluating if Face detection mode is used in AF mode.

Exposure compensation is allowed and can be locked during movie capture.

Movie will be recorded in sRGB color space and Picture Style currently set
Image Stabilizer is not recommended. It may introduce AF motor noises in sound recording or shorten the capture due to battery demand in using the IS feature
Still capture is permitted during a movie capture, camera will determine values of shutter speed, aperture and ISO from 100-3200
HDMI is using live view image feed, with no sound and smaller image output on display