Canon 5D Mark II Video Capture Is Comparable To $500K Pro Video Equipment?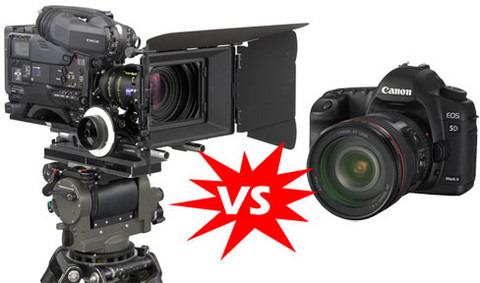 We told you the video feature on Digital SLR is the next big thing in digital SLR camera industry, and we are not far off. Vincent Laforet, an international acclaimed photographer from New York, which also the Pulitzer winner has published a short review of Canon EOS 5D Mark II video aspect on his personal blog and a commercial-grade film is forthcoming.
In reference to his article, Vincent was given a hands-on opportunity. It comes unexpected while visiting Canon's HQ and had less than 72 hours to come out with a production level short film. Vincent is no film expert; a sudden assignment with little time for preparation is quite a challenge for anyone who has never shot a film before. The result? Nothing short of amazing according to Vincent.
See what he has to say.
"It produces the best video in low light that I've ever seen – at 1080p."
"you no longer need half-million dollar's worth of high definition video cameras and lenses delivered by a truck with its own driver to shoot a high definition film in low light – you just need a $2,700 camera and a few lenses"
"Everyone has been waiting for the video camera that can also take stills... here's a still camera that can shoot stunning video."
His amateur opinion in film equipment may not favor or qualify him for a professional review, but was concurred with a top commercial film editor with expertise in the $20k RED camera. "the 5D MKII is far superior to the RED camera in terms of low light performance..."
A $2,700 camera doesn't turn you instantly into a production level film maker. A great artistry presentation comes a long way- Pair of God-gifted eyes, high quality lens, film crews and travel expenses just to name a few. But that's not the point; video feature in Digital SLR has the potential to change the industry. The RED camera popularity relies greatly on its compatibility with SLR interchangeable lens; now imagine millions of D-SLR owners! Soon they can express their artistic ability in motion rather than still pictures without the cost or size of pro-level equipment. Its compact size and user friendly operation would benefit wedding photographer or photojournalist on the run – not having to purchase separate tools for filming purposes.
In his reply to his reader, he called an amateur digital video camcorder Canon XH-A1 unusable garbage when it compares head-to-head with Canon 5D Mark II in night scene. Meanwhile, let's take a quick peep at the film.
[Update : the film is out. See post here]
The current model doesn't provide 24fps, a swivel type LCD screen or equipped with better audio inputs; hopefully the next one will. As a Canon shooter, I'm glad they finally came out with something that is useful than the "Print" button. As a Digital SLR owner with no prior knowledge or training in film photography, I can't wait to try it!