Canon REALis WUX10 Mark II D and SX80 Mark II projectors unveiled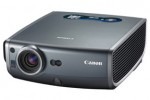 Projectors are great for all sorts of things from watching your favorite team in massive screen sizes to playing video games and giving presentations. Canon has unveiled a pair of new LCOS projectors with photo image modes for color management. The two new projectors include the REALis WUX10 Mark II and SX80 Mark II.
The photo image mode of the projectors allows for advanced color management and adjustments for ambient lighting conditions. The mode allows the user to control the look and feel of the images being shown. The WUX10 projector has a native resolution of 1920 x 1200 and 3200 lumens of brightness.
The SX80 Mark II has a resolution of 1400 x 1050 and has PictBridge connectivity, 3000 lumens, and HDMI and DVI inputs. Both projectors have a 1.5x powered focus/zoom lens. The lens offset is 10:0 so no tilting or keystone correction is need. Both projectors also have a RJ-45 port. The WUX10 Mark II sells for $12,999 and the SX80 Mark II sells for $3,999.