Professional photographers, even if they are of the digital inclination, are just as obssessed about printouts as they are of digital copies. But while cameras and screens have blown up in terms of resolutions, printers are still catching up. That is why Canon is putting out the imagePROGRAF PRO-1000, the first in a new breed of printers that are big in size and big in new features, designed to cater to the needs of professional photographers who need to print vivid photos that, as Canon puts its, will move you.
How large, you ask? It can handle 17-inch formats with ease. The printer is professional in feature and in size. It almost pure black coating is broken with a thin line of red, a design that Canon compares with its EF L-series lenses. The connection isn't accidental either, as the PRO-1000 was really designed to be a companion to Canon's DSLR line.
Almost everything is new with this printer. It has a new, larger print head, for example, that can accommodate 18,423 nozzles for each of its 12 channels. That bumps up the speed of printing without sacrificing quality. The ink technology that passes through those nozzles is also new, named the LUCIA PRO 11-color plus Chroma Optimizer. Those 11 colors include matte black, photo black, gray, photo gray, red, blue, magenta, photo magenta, cyan, photo cyan, yellow. If you're wondering why there two blacks and grays, that's because the printer can switch between matte and photo inks as needed, whether it's printing on glossy or fine art media.
The PRO-1000 also boasts of a new processing engine, the L-COA PRO. Together with a spacious (for a printer) 1 GB of memory, that engine can precisely control the balance and placement of ink droplets for a more vivid printout. Rounding it all up is new software, though the name isn't exactly new: Print Studio 2.0.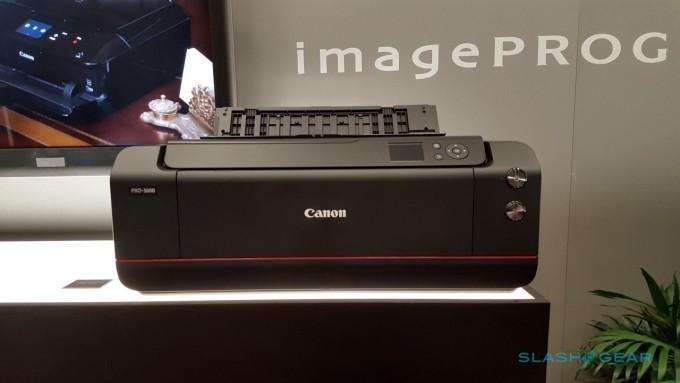 As you might imagine, the imagePROGRAF PRO-1000 will also be large in terms of price. The printer itself costs $1,299.99. Each color of ink goes for $59.99 (remember, there are 11) and the Chroma Optimizer goes for $54.99. Canon does say that the ink tanks are larger, now 80ml, so less refills are needed.