Canon EOS 7D Gets Some Video Specifications Leaked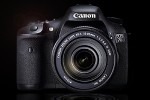 Leaks, and more leaks. Ah, we love our leaks. As long as they're not in our house. But when it comes to early, not entirely official, news regarding some hot piece of technology, we're all for them. Especially when it has something to do with the Canon's upcoming EOS 7D DSLR. The leaks today show some pretty impressive video capture, making us want to get our hands on this thing almost ridiculous at this point.
We'll go ahead and assume that these leaks are good enough for some attention. If they are, we can expect a choice between 24, 25, or 30 FPS video at a full 1080p resolution. Lesser resolution, 720p, gets you 50 or 60 FPS. And there's also an external mic, full manual controls, some in-camera editing options, and the almost now-standard HDMI-out port.
There's not much else to release at this point, except for the big stuff, like pricing and release date. But if these leaks keep up, we don't think Canon will be able to keep us in the dark for too long, or people might start throwing things. We've got another great camera from Canon on the way, and we're just hoping it's sooner than later. Much, much sooner.
[via Engadget]