Canon EOS 6D Mark II, Rebel SL2 missed the 4K video boat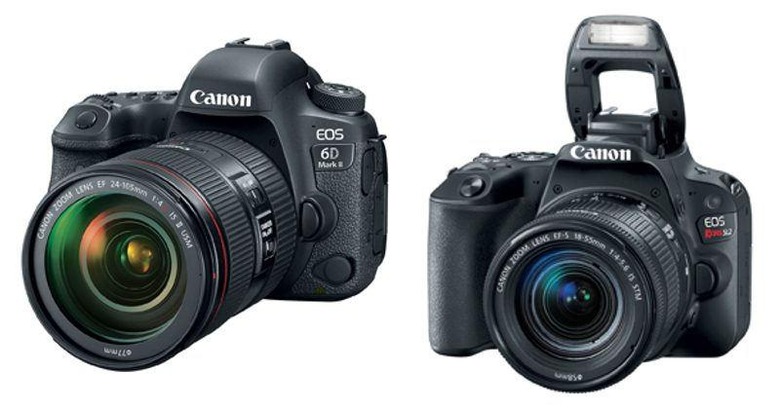 It's National Camera Day and what better way to celebrate that than by launching new cameras. Or so says Canon. Although these two new DSLRs won't be available for purchase until late next month, they have been years in tha making. So what's a few more weeks' wait? The new EOS 6D Mark II and the new EOS Rebel SL2 give budding and slightly advanced photographers almost everything they can want from a serious camera. All except for one now common feature: 4K video recording.
Just by looking at the specs, you can immediately tell how major of an upgrade both cameras are. Taking over from the 2012 model, the EOS 6D Mark II has all the trappings of a modern Canon DSLR to help woo "advanced amateurs" to the full-frame fold. That includes a large 26.2 megapixel full-frame CMOS sensor, Canon's fast Dual Pixel AF with 45 cross-type points, and its equally fast and powerful DIGIC 7 image processor, which bumps the ISO range up to 40,000. All of that is wrapped in a body that is now dust and water resistant while leaving room for a 3.0-inch vari-angle touch screen.
Although its predecessor is slightly younger, the EOS Rebel SL2's improvement is no less impressive. It gets a slightly lower 24.2 megapixel APS-C sensor, the same DIGIC 7 processor but with a lower ISO range of 100-25,600, and even the same Dual Pixel CMOS autofocus. Where it really shines, however, is in the software feature that truly marks it as DSLR for entry-level photographers. Canon calls it Feature Assistant and it lets users immediately see on the 3.0-inch touch screen the effects of changing aperture, exposure, and other settings before they actually take the shot.
Despite all these modern features and all the power these two DSLRs contain, they are curiously locked at recording video at 1080/60p. No 4K, not even 2K. While it might not be a huge deal breaker for some rising photographers, the popularity of high res videos could make them feel a bit left out of a modern trend.
Regardless, these two new Canon DSLRs are poised to be just as popular as their predecessors from 4 to 5 years ago. But they are also something you have to really invest in to get. The Canon EOS 6D Mark II Full-Frame DSLR will fetch a price of $1,999 for a body only while the Canon EOS Rebel SL2 will have a more beginner-friendly starting price of $549.99, also body only. Both will go on sale late July.
SOURCE: Canon