Canon EOS 5DS leaked with whopping 50MP sensor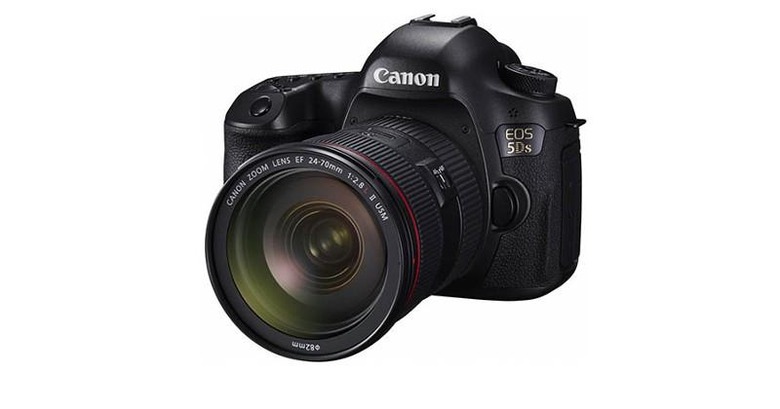 It's been a while since we've last heard from Canon's EOS 5D line, but it seems that the camera maker will be bringing it back with a very big bang. Specs of what is supposedly the the EOS 5DS and 5DS R have been leaked and they show some of the best of the best in digital cameras, which may make it sound too good to be true. But if they do come true, we might be looking at a pair of cameras that have very high sensors and the latest image processors.
The 50.6 megapixel full size CMOS sensor tipped to be on the EOS 5DS is more than twice what you'd normally find in this class of consumer digital cameras. Of course, they always say that megapixel count isn't everything, but it's hard to belittle the appeal of such numbers. The camera is also said to sport a Dual DIGIC6 processor, though the ability to shoot stills continuously at 5 frames per second hints that it may be an even more powerful processor inside. The ISO range, however, is strangely disappointing, only going from 100 to 6400 max.
For auto focus, the EOS 5DS will have two tricks up its sleeves. The first would be the high-precision 61 point AF system and the second will be Canon's own ITR or Intelligent Tracking and Recognition AF technology. In addition to these, the two cameras will have bodies of magnesium alloy and will have a few fancy features like a customizable control screen, a time lapse movie mode, and even a bulb timer.
One point of distinction between the 5DS and 5DS R is that the latter is said to have no low-pass filter, usually done to get higher resolution shots at the price of a bit more aliasing.
There is also word that a new Canon EOS M3, following 2013's model, will soon be announced announced as well, though no details about its specs have been leaked yet.
VIA: Digital Camera Info