Canon EOS 5D MkIII trumped by D800 in testing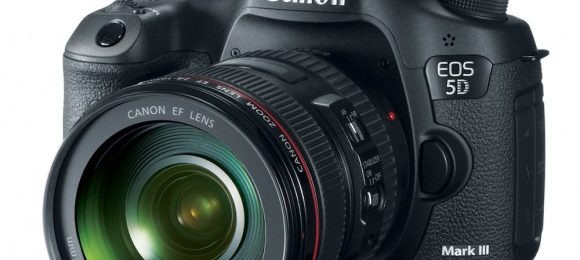 Canon's woes with the EOS 5D Mark III go from bad to worse, with independent tests suggesting the core performance of its new 22-megapixel sensor is little improved from the 5D Mark II it replaces. Hot on the heels of Canon's embarrassing confirmation that the hardware design of the EOS 5D Mark III has a flaw that allows light into the body, testing by specialists DxO Labs indicate only minor advantages from the new model and – unlikely to help in the ongoing Canon vs. Nikon platform war – performance still lagging behind that of the D800.
DxO Labs' DxOMark testing looks at three distinct abilities of a camera: color depth ("portrait"), dynamic range ("landscape"), and low-light ISO ("sports"). Those three factors are then combined into an overall score for easier comparison between models.
The EOS 5D Mark III scores 81 overall, up two points from its predecessor. Both color depth and low-light ISO performance are improved, though the Mark III actually scores worse on dynamic range. However, the Nikon D800 scores 95 overall, fourteen points clear of Canon's score, with a better low-light ISO rating, better color depth performance and better dynamic range.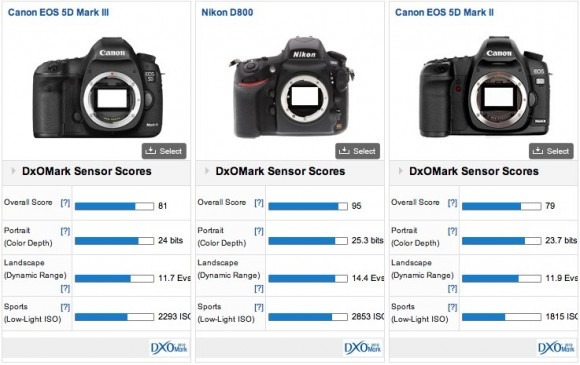 The full testing goes into more detail – Canon's camera does better than the D800 at higher ISOs, for instance – and it's worth noting that DxO Labs only looks at RAW shots and ignores the in-camera JPEG conversions. Canon has argued that the Mark III is particularly better on that front than the Mark II, though the sort of pro-photographers who might be interested in this sort of side-by-side testing are likely to do their own RAW to JPEG conversions rather than leave it to their DSLR.
Undoubtedly, though, the biggest impact for any photographer on the shots they produce is their own skillset: someone who knows their stuff will be able to squeeze better results out even a mediocre camera than a novice with a top-flight Canon or Nikon. Still, the arguments between Canon fans and Nikon fans are unlikely to go away anytime soon.
[via CNET]