Canon EOS 5D Mark II premature leak rumor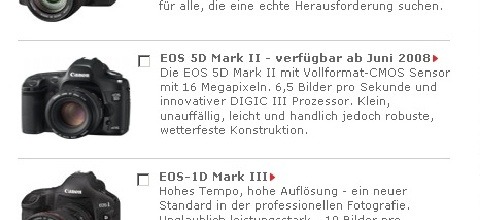 Rumors are rife that Canon's German site has accidentally released information about the upcoming EOS 5D Mark II digital SLR. According to the story the mention was spotted and a screengrab saved before Canon realised and edited the page. Specs for the Mark II are given as a 16-megapixel CMOS sensor with the company's DIGIC III processor and waterproof casing.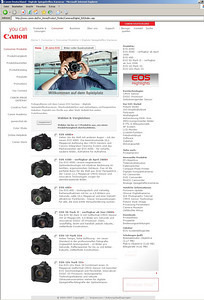 However many are doubting the authenticity of the image, believing it to be a Photoshopped fake. On of the key arguments refers to the positioning of the camera thumbnail image, and how that lines up to the rest of the models and the checkbox. The angle that the supposed Mark II is pointing is also different from the rest of the models.
Original rumors suggested the camera would actually launch during Winter 2007. If this story is true, however, Canon are set to release the EOS 5D Mark II in June 2008. Given the fact that the people poring over the image are generally all huge photography addicts, expect even more rumor and analysis!
[via Digg]