Canon EOS 400D Specs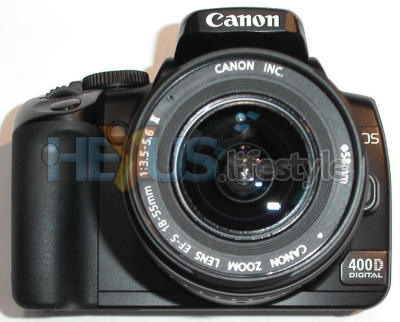 New information regarding Canon's EOS 400D is available for the world to read, thanks to the Chinese Canon website. The new Canon digital SLR sports a new 10.1 effective megapixel CMOS image sensor, a large 2.5-inch LCD display, and a 9-point auto focus system.Canon EOS 400D features
• 10.1 effective Megapixels

• APS-C size 22.2 x 14.8 mm CMOS image sensor

• Focal length of 1.6x

• Dust removal system

• 3 frames per second – maximum of 27 JPEG or 10 RAW

• 9-point auto focus system

• 2.5-inc LCD monitor
EOS 400D set to meet massive consumer demand.
Canon today announces its next generation D-SLR: the EOS 400D. Featuring a 10.1 Megapixel CMOS sensor, new EOS Integrated Cleaning System, larger and brighter 2.5" LCD and 9-point AF, the model is predicted to take the lead as the world's most popular camera. It is positioned above the EOS 350D, currently the fastest selling SLR camera of all time.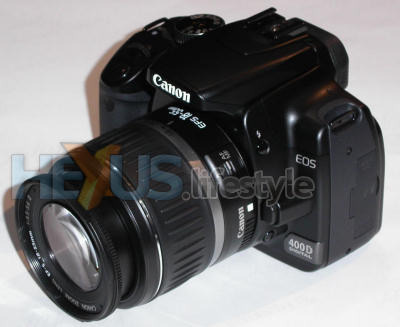 Canon's EOS 300D, the world's first consumer D-SLR, kick started a digital revolution in 2003. "We are now witnessing a mass consumer trend towards D-SLR," said Mogens Jensen, Head of Canon Consumer Imaging Europe.
Consumer research shows it is not only existing film SLR owners now switching to digital SLR photography. "On top of the existing 21 million analogue EOS shooters, a completely new profile of consumer is adopting digital EOS and driving growth," said Jensen. "With European household penetration having only just hit 3%, the question now is not 'will this market be big', but 'how big will this market become'."
The EOS 400D features:
·    10.1 Megapixel CMOS sensor
·    Canon's EOS Integrated Cleaning System
·    2.5" LCD screen with 230K pixels and 160º viewing angle
·    High-precision 9 point AF system
·    Picture Style image processing parameters
·    DIGIC II image processor with 0.2 sec start up
·    Digital Photo Professional RAW processing software
·    Compact and Lightweight body
·    Fully compatible with all Canon EF and EF-S lenses and EX-series Speedlites
Canon is the only D-SLR brand to own and manufacture the sensor, processor and lenses in house. "EOS photographers benefit from 20 years of ongoing research investment into EOS," said Jensen. "EOS photographers have the great advantage of owning a system camera in which every element is designed at a very fundamental level to work as a balanced, integrated whole. It is one reason why more than 70% of registered photographers at the Athens Olympics shot on EOS." With EOS, Canon aims to provide consumers with the widest and most expandable camera system available, including over 60 EF lenses and Speedlite flash units.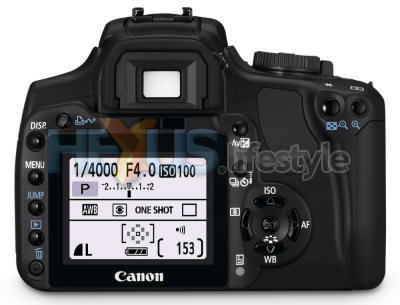 Improved Performance
As well as the EOS Integrated Cleaning System, the EOS 400D incorporates a number of developments over the EOS 350D. Resolution increases from 8.0 to 10.1 Megapixels, using the superior hi-sensitivity, hi-speed, low-noise CMOS technology now found in all six EOS Digital models. At nearly twice the size of the EOS 350D display, the 2.5" hi-resolution LCD is the brightest in the EOS range and now displays all of key shooting and user interface information along with image playback. The AF system expands from 7 to 9-point, with a highly sensitive f/2.8 center point for exceptional performance in low light. Even with the image resolution increase, maximum frame burst almost doubles from 14 to 27 large JPEGs and from 5 to 10 RAW.
Dust reduction
The EOS 400D is the first camera to incorporate the EOS Integrated Cleaning System. Based on significant research into the causes of dust in D-SLR cameras, the system combats dust in three important ways: Reduce, Repel and Remove.
1. Reduce
Internal camera mechanisms are designed to minimise dust generation. The body cap is redesigned to prevent dust generation through wear on the cap itself.
2. Repel
Anti-static technologies are applied to the low-pass filter covering the front of the sensor so as not to attract dust.
3. Remove
A Self-Cleaning Sensor Unit uses hi-frequency vibrations to shake dust from the low pass filter for approximately one second after each start up. For instant shooting after power up, this feature is disabled immediately the shutter release is depressed.
Canon has also developed an internal Dust Delete Data system, which can map the position of any visible dust on the sensor. This can then be deleted automatically after the shoot with the latest Digital Photo Professional software.
The EOS advantage
The EOS 400D inherits a number of advanced features proven in higher-end EOS models, such as the EOS 30D and 5D. These include its 9-point AF system, Picture Style (see Appendix: Technologies Explained), 9,999 image capacity folders and expanded Pictbridge functionality.
The EOS 400D also incorporates the same DIGIC II processor found across the EOS range right through to EOS﷓1 professional models (see Appendix 'Technologies Explained'). As well as providing superior image quality through advanced rendering algorithms and almost instant 0.2 second start up time, DIGIC II's accelerated processing prioritises the photographer's ability to keep shooting by clearing the buffer quickly between frame bursts.
Upgrading
The upgrade path to the EOS 400D from earlier EOS models is made easy by maintaining the same intuitive user interface and basic layout of key features and functions. Photographers are also able to use the same battery and Battery Grip BG-E3 as used on the EOS 350D, as well as continued support for all EF and EF-S lenses, EX Speedlites and EOS accessories.
Software
Consistent with the entire EOS Digital range, the EOS 400D is supplied with a comprehensive software suite to help the photographer's workflow. This includes Digital Photo Professional (DPP), a powerful RAW converter that provides complete RAW image processing control. DPP also integrates with camera features such as the Dust Delete Data and Picture Style. The camera also comes with EOS Capture, Image/Zoom Browser and Photostitch, plus 100MB of personal online space on CANON iMAGE GATEWAY, Canon's online photo sharing service.
Availability and Price
The EOS 400D 18-55 kit will be available from late September 2006 for £719.99 RRP inc. VAT / €1039.99 RRP inc. VAT (Body only  £649.99  RRP inc. VAT / €939.99 RRP inc. VAT)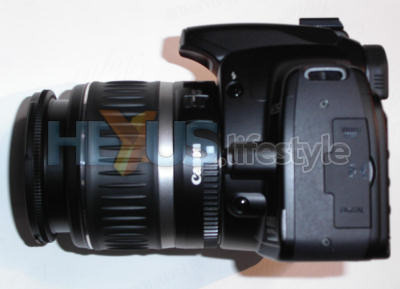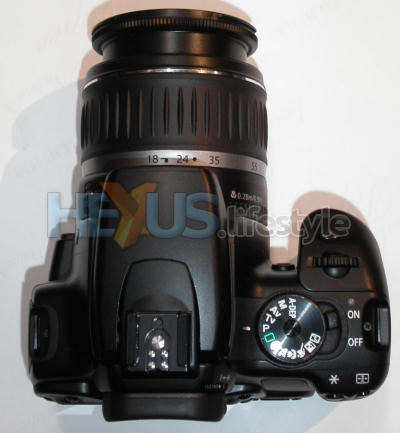 Technologies ExplainedPicture Style
Picture Style pre-sets simplify in-camera control over image qualities. Picture Style pre-sets can be likened to different film types – each one offering a different colour response. Within each selectable pre-set, photographers have control over sharpness, contrast, colour tone and saturation. The camera's factory default configuration is set to deliver immediately-usable JPEG images without need for additional menu settings. Picture Style presets applied to a RAW image do not degrade the image in any way and can be revised with Canon's Digital Photo Professional software.
The six pre-sets include:
Standard – for crisp, vivid images that don't require post-processing; Portrait – optimises colour tone and saturation and weakens sharpening to achieve attractive skin tones; Landscape – for punchier greens and blues with stronger sharpening to give a crisp edge to mountain, tree and building outlines; Neutral – ideal for post-processing; Faithful – adjusts colour to match the subject colour when shot under a colour temperature of 5200K; Monochrome – for black and white shooting with a range of filter effects (yellow, orange, red and green) and toning effects (sepia, blue, purple and green). The User Defined Picture Style can be used to store up to three customised pre-sets, or any of the pre-sets available for download from Canon's web site.
DIGIC II
Now found across the EOS range, DIGIC II is a purpose built, dedicated image processor responsible for the high speed calculations necessary in order to providing exceptionally accurate colour reproduction in real time. Canon's second generation imaging engine, DIGIC II performs the duties of a number of separate processing units to speed processing, save space, and optimise battery life.
Canon's processor overcomes the trade-off faced by other manufacturers between camera responsiveness and image quality. With its massive capacity, DIGIC II treats every image with the full complex processing algorithms required in order to deliver superb EOS picture quality, while enabling extended continuous shooting bursts.
CMOS
Canon's CMOS technology is one of the company's key competitive advantages, with noise reduction circuitry at each pixel site delivering virtually noise-free images. In comparison with CCD technology, the lower power consumption characteristics of Canon's CMOS sensors also help optimise battery usage.
CCD sensors use a bucket relay system to transfer each pixel's accumulated electrical charge to a corresponding gutter. The operation is time consuming and draws considerable power.
By contrast, signal conversion in Canon's CMOS sensors is handled by the individual amplifiers at each pixel site. Unnecessary charge transfer operations are avoided, vastly speeding up the process of getting signal to the image processor. Noise generation is reduced, power consumption is limited and faster frame rate potential is increased.
Digital Photo Professional Software
Digital Photo Professional software provides high-speed processing of lossless RAW images. Processing with Digital Photo Professional allows real-time display and immediate application of image adjustments, giving control over RAW image variables such as white balance, dynamic range, exposure compensation and colour tone.
Images can be recorded in sRGB or Adobe RGB colour space, and the Digital Photo Professional application supports sRGB, Adobe RGB and Wide Gamut RGB colour spaces. An ICC (International Colour Consortium) profile attaches automatically to RAW images converted to TIFF or JPEG images. This allows faithful reproduction of colours in software applications that support ICC profiles, such as Adobe Photoshop. For improved efficiency, a set of image adjustments can be saved as a recipe and applied to multiple images.
Reader enquiries
UK – 08705 143723; http://www.canon.co.uk
Eire – (01) 2052400; http://www.canon.ie
About Canon (UK) Limited
Canon is a world-leading innovator and provider of imaging and information technology solutions for the home and office environments.
Canon has a global philosophy of Kyosei – living and working together for the common good, which clearly demonstrates commitment to customers, staff and the environment shared by all.
Canon (UK) Ltd is the UK marketing and sales operation for the US$32 billion global company based in Tokyo, Japan.  In the UK Canon employs around 2,000 people in various locations including Ireland and has achieved sales of £541m in 2005.
The main business focus for Canon (UK) Ltd is in two clearly defined market segments: Business Solutions covering both the office and professional printing environments (including: multifunctional printers, IT consultation, photocopiers, printers, large format printers, fax machines, document management hardware & software) and Consumer Imaging (input solutions: film and digital cameras, camcorders, binoculars and scanners; and output solutions: Ink Jet printers, fax machines, desktop multifunctionals and multimedia LCD projectors).Full specs – in PDF format (41KB) – can be viewed here (click to view; right-click to download)
Canon EOS 400D [via Lets Go Digital and HEXUS.lifestyle]