Canon 5D Mark III spotted in the wild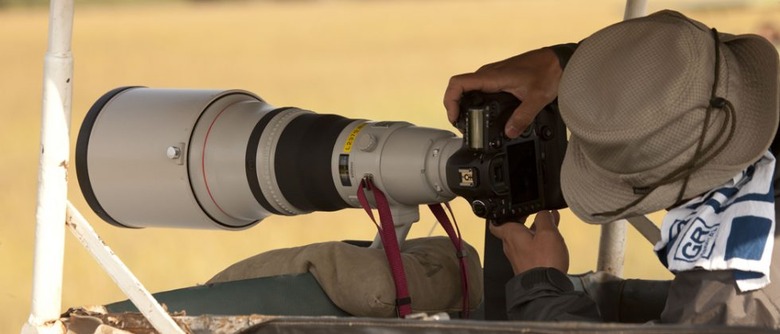 It's always a great day when you're out on safari in Africa, and even a greater day when you see not only a collection of fabulous animals, but a brand new camera with which a cohort of yours seems to be taking some of the most advanced photos on the trip! What we're seeing here appears to be, as The Verge's David Pierce says, a brand new Canon EOS 5D Mark III. Though this camera has not been leaked or released officially before so we can't comment on actual specifications, we can see some advanced features quite plainly from here.
This device will be looking rather similar to the current 7D and the 5D Mark II of course, but with a slightly larger display than either of them, appearing also to have a different aspect ratio than we're currently used to seeing on either device. There's a few button re-arrangements as well, starting with a "rate" button on the left, a joystick on the removable battery grip on the bottom, and no pop-up flash anywhere to be seen, not one!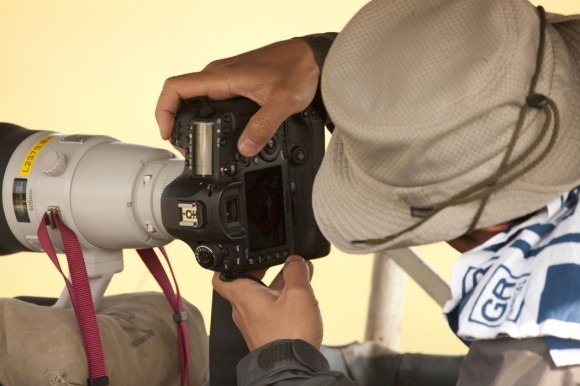 There's a brand new scroll wheel here, a slightly modified interface on the display if you look VERY closely, and the secondary display at the top of the camera does not appear to be active at all. Also that Canon 200-400mm lens is an absolute beast, and the source speaking with the photographer here in-person says that that piece of the equation should be released in March or April – soon!
[via Aperture Academy]