Canned Mega Bloks Halo game surfaces in new leak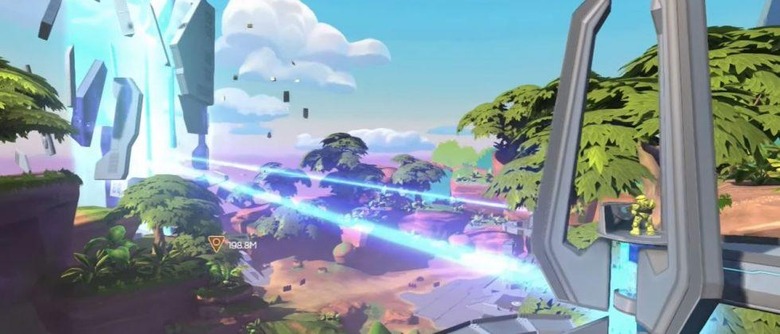 Halo has turned into quite the franchise over the years, with 13 games falling under its umbrella since Halo: Combat Evolved first released in 2001. Today we're learning about a Halo game that never made it to release, though this one is quite a bit different than any other Halo game ever created. Say hello to Mega Bloks Halo, a recently uncovered prototype that shows off a more kid-friendly version of the shooter series.
Throughout most of 2013, developer N-Space was working on Mega Bloks Halo for the Xbox 360. The game was cancelled before the end of the year, and nearly four years later we're getting our first look at what could have been thanks to a new video from PtoPOnline's Andrew Borman. Borman secured a prototype build of Mega Bloks Halo and has taken the time to record gameplay footage from it, inviting all of us all along for the admittedly weird journey.
Even though there's not much to the game in this prototype build, what's there seems to be relatively fleshed out. Mega Bloks Halo drops the series' first-person perspective in favor of a third-person one, and in general gives the Halo universe a more warm and colorful makeover. Of course, building with Mega Bloks is a central feature, as players are tasked with finding blueprints and building items to proceed through levels.
Borman says that N-Space was working on this title for most of 2013, and the build we see here was delivered around the time of the game's cancellation in November of that year. Why was it cancelled? It's ultimately difficult to say, but Borman believes it's because Microsoft didn't want to invest much in an Xbox 360 game during its shift in focus to the Xbox One.
Whatever the reason for its cancellation, its safe to say that we probably won't see this game any time soon. Never say never, of course, but at a time when the Xbox One doesn't have a bunch of exclusive titles to lean on, Microsoft may want to focus more on main series Halo games. Still, even if Mega Bloks Halo is destined to never see the light of day, it's cool to see what N-Space had achieved before the plug was pulled.