Candy Rocket is a real rocket fueled by candy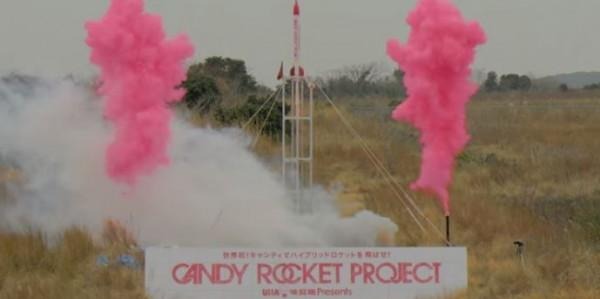 If the Killer Klowns from Outer Space had a long-range weapon, this would definitely be it. Some industrious and fun-loving rocket scientists (and, apparently, candy experts?) from Japan put their brilliant minds together to bring to life a project designed to inspire the youngest generation upward, as well as maybe do something that has never been done before. What did they do? Created a rocket powered by candy, launching it with a fiery burst to over 800ft. in the sky.
The rocket is called, most appropriately, the Candy Rocket, and it was created as part of a project from the Japanese company UHA Mikakuto. UHA drew in experts from universities and similar entities and gave them a mission: make a (real) rocket that is functional and powered by candy.
According to UHA Mikakuto's wesbite, its corporate concept is "deliciousness is gentleness", and with that "an innovative world of confectionery is to unfold." They've certainly backed up that statement, unveiling the Candy Rocket in a video on its YouTube page showing the launch.
The rocket is supposedly powered by a total of 20 Puccho candies, and it reached a height of 813 feet last week. To help give it that sugary flare, a couple pipes pumped bright pink smoke into the air. Further details on how this was done aren't provided, but one must wonder whether the rocket fuel is edible.
SOURCE: Kotaku