Canada's Rogers claim Sony Ericsson XPERIA X10 for Q2 2010 North America debut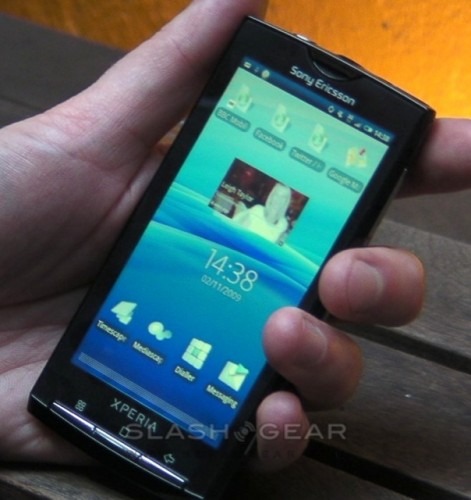 Canadian carrier Rogers Wireless has become the first to announce it will be offering the Sony Ericsson XPERIA X10, though neither carrier nor company are yet saying exactly when the Android smartphone will arrive.  Set to go on sale sometime in Q2 2010 – later than Sony Ericsson told us back at the handset's launch – the XPERIA X10 will be a Rogers exclusive in the country, and will apparently "make its North American debut first in Canada".
Buyers will get an 8.1-megapixel camera, WiFi, 3G/UMTS and Bluetooth, along with Sony Ericsson's own custom applications for the Android platform.  Sony Ericsson Timescape funnels all social content – including SMS/MMS messages, IM, Twitter and Facebook updates and calls – into one timeline, while Sony Ericsson Mediascape attempts to do the same thing with local and internet video, images and music.
There'll also be the regular Android apps, and access to more software in the Android Market.  More details in our hands-on report on the X10 here.  No news on Rogers Wireless' pricing or availability, however; that'll have to wait until the handset arrives in Q2 2010.
Sony Ericsson Timescape demo:
Sony Ericsson Mediascape demo:
Press Release:
World's Premiere Social Networking and Entertainment Phone,The Sony Ericsson Xperia™ X10 Coming To Canada Exclusively At Rogers

January 05, 2010 @ 08:00AM

• The Xperia™ X10 introduces an open and integrated world of social media, communication and entertainment

• New UX (user experience) platform lets consumers organize everything and discover more with one of the most open, human and intuitive user experiences yet

• Rogers Wireless becomes exclusive Xperia ™ X10 Canadian carrier and first in North America ; extends leadership in Android device lineup

Toronto , January 5, 2010 – Canadians will be among the first in the world to experience open and integrated social media, communication and entertainment with the launch of the Sony Ericsson Xperia ™ X10 phone, which will make its North American debut first in Canada , exclusively from Rogers . The Xperia ™ X10 is expected to be available in the second quarter 2010.

"At Rogers , we have built our legacy on innovation, bringing the most exciting and exclusive handsets first to customers in Canada ," said John Boynton , Executive Vice President, Marketing, Rogers Communications. "We are thrilled to be the exclusive Canadian carrier to offer this phenomenal mobile entertainment device."

"Building on our entertainment heritage, the Xperia ™ X10 underpins our commitment to an open and multi-platform strategy that maximizes choice for the consumer and delivers the best possible entertainment experience," said Andrea Gaal, General Manager, Sony Ericsson Canada . "This handset makes communications more fun and more playful while multiplying and enriching opportunities to connect."

Introducing signature applications like Sony Ericsson Mediascape and Timescape™, the Xperia™ X10 lets consumers organize everything in their phone and in an intuitive way:

• The Sony Ericsson Timescape™ application manages all your communication with one person in one place. Browse through your conversations and check out your Facebook™, Twitter™ and MySpace™ accounts 1 , photos, emails 1 , and texts 1 all in one seamless, easy to use interface

• Sony Ericsson Mediascape application is the smart way to get all the music, photos and videos you want from your favourite friends and artists. It accesses this content from just about everywhere – your phone or YouTube™ and Facebook™ services 1 and presents everything for you in an integrated way

Intelligence capabilities, integrated into Sony Ericsson Mediascape and Timescape™ applications, automatically recognizes connections between contacts, content and media. By recommending alternative ways to communicate or guiding to new media experiences, consumers can discover more in a truly open way. For example:

• Pressing the new "infinite button" guides you through the connected world, aggregating all your interactions with one person into one view

• Intelligent face recognition features recognize up to five faces in any picture, automatically connecting them with your social phonebook and all other related communications with that person. The X10 also features an 8.1 megapixel camera including 16X digital zoom.

The UX platform builds on top of the Open OS (Android) and creates a unique Sony Ericsson user experience by combining best-in-class entertainment features with signature applications, unrivalled integration of social media services and a rich graphical user interface. The Xperia™ X10 phone is the first mobile phone to truly humanize the way people interact with their phones.

Sony Ericsson's open approach gives consumers maximum choice. Xperia X10 users can download any application they want directly from Android Market, creating an experience that is entirely unique to them.

Dig Deeper

For full specifications visit:

www.sonyericsson.ca

For further information visit:

www.rogers.com/x10

Developer Information:

Log on to The Sony Ericsson Product Blog for more information: http://blogs.sonyericsson.com/products

Follow Sony Ericsson Canada on Twitter :

Pricing and availability will be announced at launch. Any product features, specifications or statements in this document that are not historical facts are forward-looking and involve risks and uncertainties. Actual product features, specifications or forward-looking statements are subject to change.