Can we give the i.Tech Virtual Keyboard a second chance?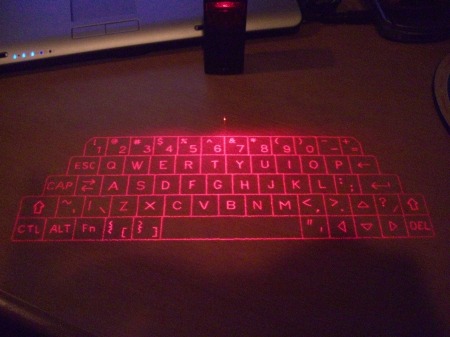 I think that for all of us there are products out there that we know are flawed and yet we still want them; for me, the i.Tech Virtual Keyboard is one such gadget.  The idea of a laser projected keyboard, turning any flat surface into an input device, gets me so excited I can't quite sit still; despite reviews pounding it for the complete absence of tactile feedback, the eventual repetitive strain on your fingers from bashing a desk, and the general wonkiness of its laser technology, I still want one.
So I'm glad to see that on of my favourite reviewers, Judie over at Gear Diary, has a Bluetooth Virtual Keyboard in for testing.  We've only got some unboxing photos to sate us so far, but Judie is promising the full review on January 15th.  If if ends up less than glowing, might I suggest "How the i.Tech Virtual Keyboard was meant to change my life but instead broke my heart" as a title?
The i.Tech Virtual Keyboard Unboxing [Gear Diary]