Camera With A Touch Of Wilderness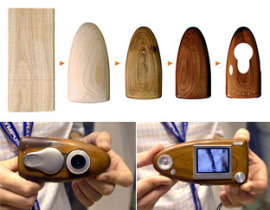 I am not sure whether this is doing a service to the wilderness, or making use of it in a bad way, but Olympus has designed a camera that is almost totally made out of wood. Their claim is that the wood case is not added at the end of production, but rather a solid wood block is carved to make room for the camera parts at the beginning of production.
This is a great camera for people who admire wood, or who would want have something different. The wood becomes the finished frame of the camera in 5 intricate steps that are illustrated in the image to the right.
The camera was shown off at Photokina earlier this year, and might have an appearance at CES. SlashGear will see if they can get more pics at CES.
Camera made entirely of wood (almost) [Via Cnet Crave]