CamBall is world's smallest video recorder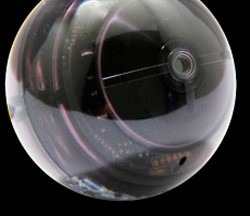 If you want a video recorder that is tiny and can be used for all sorts of different things, the CamBall is the world's smallest recorder. The device is the size of a golf ball and is wearable, can be mounted on different surfaces, and is waterproof as well.
The camera can be set to record when it senses movement on the SG-31 version and can be used for home security and surveillance. The motion detection version of the CamBall is the SG-31 and the standard version is the SG-30. Both versions have the same 320 x 240 resolution at 25fps. The camera can record video or snapshots and has an integrated mic and 128MB of storage. There is a SD card slot for expansion that supports up to 16GB cards.
The battery is good for 2.5 hours of recording on continuous setting or 12 hours on power save setting. The battery is recharged via a USB port and it has an MP3 player as well. The thing ships with a 2GB SD card, stereo headphones, and the video or photos can be directly downloaded to your PC. Optional surveillance pack accessories include a mount for concealed placement, power adapter cord, and more. A sports pack gives mounting options for bikes and motorcycles. A vehicle mount pack will be offered soon. The SG-30 sells for $149.99 and the SG-31 sells for $199.99.