Call of Duty: WWII Zombies mode trailer leaks ahead of SDCC debut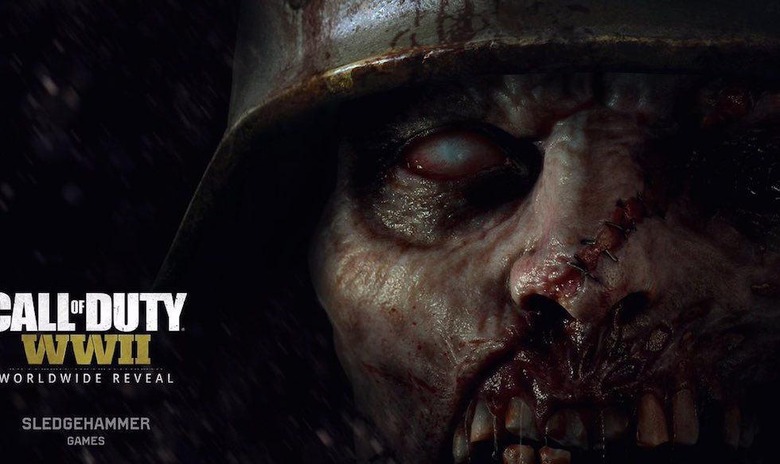 Anyone who's played a Call of Duty title in the last few years knows that certain titles in series include a very popular zombies mode, where players must work to survive against unending waves of the undead. This year's Call of Duty: WWII has players returning to a World War II setting for the first time in many years, and many are eager to see what changes that brings to the zombies mode. But while that part of the game was due to be revealed at San Diego Comic Con this comic week, a trailer has already been leaked.
If you're worried about spoilers for the game, know that we haven't included it here in this article. WWII's developer Sledgehammer Games is very upset by the early leak, and publisher Activision is having it pulled from YouTube almost as fast as it's posted. But if you really want to see it, a quick search on the site should have it turn up.
Judging by the footage that was released, WWII's Zombies is going to be a much darker, gorier take on the mode than we've seen before. There's a character that mentions a zombie "Fourth Reich," and undead that we see are truly grotesque. The clip ends by showing the mode's full name, "Army of the Dead."
Leaks aren't ideal, but know that we appreciate the support. We're almost done with the Nazi Zombies Trailer. Hang tight, it'll be worth it!

— Sledgehammer Games (@SHGames) July 15, 2017
Sledgehammer Games themselves are pretty frustrated by the leak, which appears to have originated from a now-deleted Twitter account with the username @ww2zombieleaks. Studio founders Michael Condrey and Glenn Schofield tweeted that the leak ruins their own planned reveal, and ask that fans wait only a few days — until July 20th — for the real premiere.
We're working hard to finish the official Nazi Zombies trailer. Please respect the craft & avoid spoilers today, final trailer coming soon. pic.twitter.com/gE93Ucdeh7

— Michael Condrey (@MichaelCondrey) July 15, 2017
Leaks suck, spoils it for everyone. Avoid the leaked trailer, wait a few more days for the real thing. It's worth it. #pissed pic.twitter.com/VKUQgN7iAr

— Glen A. Schofield (@GlenSchofield) July 15, 2017