Call Of Duty: Modern Warfare PS4 Pro Bundle On The Way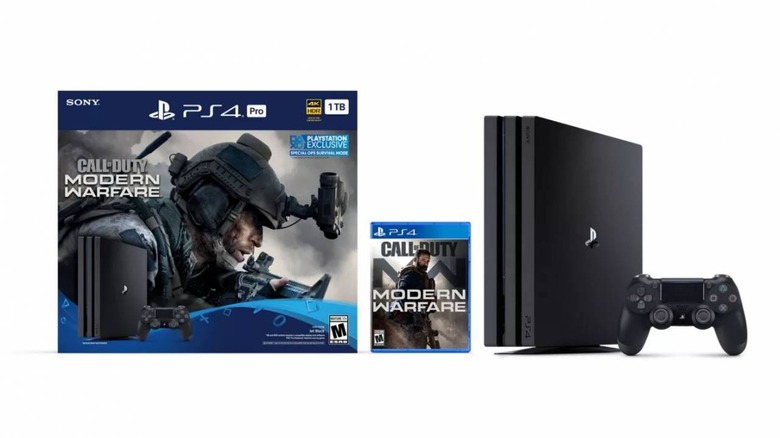 The next Call of Duty game is on the horizon, and in the lead up to Modern Warfare's release, Sony has announced that it's putting together a PS4 Pro bundle centered around the game. It isn't rare to see such a thing, as Sony often announces bundles for big-name titles, whether those games are its own or are coming from third-party publishers.
Unfortunately, there's no limited edition PS4 Pro or controller included in this bundle. Instead, you'll get the standard black PS4 Pro and standard black DualShock 4, so if you're looking for a more limited design, you'll have to go elsewhere. Aside from the console and the controller, you'll get a physical copy of the game, so at the very least, you won't be getting a digital code to redeem.
While going with the standard color scheme might seem a little boring, the real value in this bundle comes from its price of $399.99. That's what Sony typically charges for a PS4 Pro on its own, so you're essentially getting the game for free when you buy this bundle. In other words, if you're looking to upgrade your hardware and you were going to buy Modern Warfare anyway, this is probably a good buy, but we can imagine more than a few people sitting this one out.
As with all PS4 Pros, the console in this bundle comes with a 1TB hard drive, so it has a decent amount of storage for digital games. The PS4 Pro, of course, is also capable of playing games in 4K – assuming you've got the display for it – which is its main selling point compared to the standard PS4.
Sony says that this bundle will be launching on October 25th, which is the same day the game itself lands. You'll be able to pick it up in "select retail stores" across the US and Canada for $399.99 USD/$499.99 CAD.