Call Of Duty: Modern Warfare: Dark Edition Includes Real Night Vision Goggles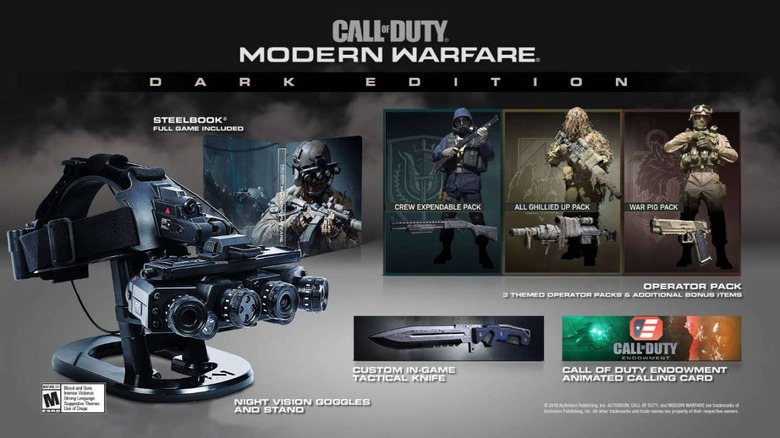 Following an early leak of the bundle, Activision has officially unveiled its new Call of Duty: Modern Warfare: Dark Edition, a collectible kit that features a real pair of actual, physical night vision goggles. The bundle has launched for pre-order globally with other physical items, as well as a loadout of various digital goods including operator packs.
Activision calls its new 'Dark Edition' bundle a collector's set. First up, buyers can expect to get 'All Ghillied Up' and 'Crew Expendable' Operator Packs, the 'War Pig' Operator Pack, a Call of Duty Endowment (CODE) Animated Calling Card, and a custom in-game Tactical Knife, all of which are digital goods.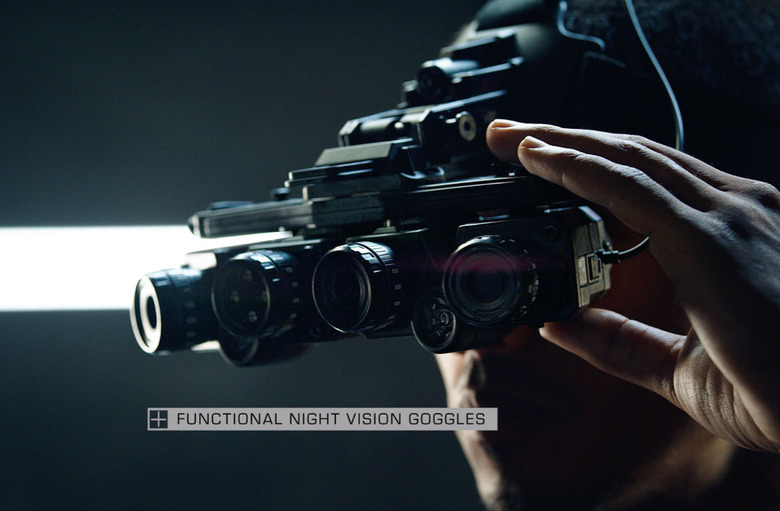 Joining those are four physical items included with the bundle: the night vision goggles, a stand for the goggles, steelbook, and the Call of Duty: Modern Warfare game.
The night vision goggles are obviously the biggest appeal for this kit — they automatically switch from day to night modes, can be used in normal daylight conditions, and have a long-range IR mode with a manual button for seeing items up to 65ft away in total darkness.
The headset is designed with different sliders, adjustment buttons, and various functions for adjusting the view in different situations. One can, for example, using knobs to adjust the distance and width of the eyepieces in relation to one's eyes. The headset also features a hinge release button for flipping up the goggles while wearing them.
Call of Duty: Modern Warfare: Dark Edition is only available through GameStop. Activision says the bundle is available to pre-order, but it is currently listed as 'Not Available' at $199.99 USD on the retailer's website.