Call Of Duty Black Ops 4 Operation Spectre Rising Arrives On PS4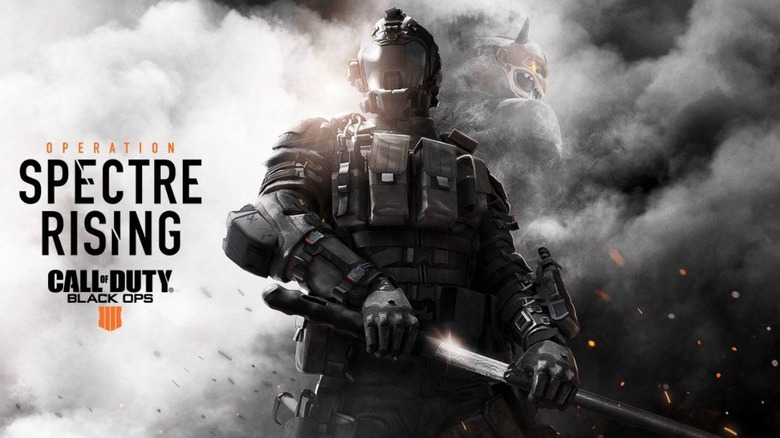 The rise of Fortnite and PUBG has seemingly spread the battle royale fever to the giants that have started to implement similar modes in their titles. Not Treyarch and Activision, though. They're sticking to their guns, their very big guns and are showing that they still can make a big bang, even without battle royale. Then again, with new multiplayer modes, a flooded map, and a new specialist, CoD Black Ops 4's latest installment is almost all about big bangs. Well, almost.
Operation Spectre Rising welcomes the return of, well, Spectre, the sneaky assassin from Black Ops III. While still keeping his origins secret, Black Ops 4's version enhances the specialist's stealth killing capabilities, including a third-person view courtesy of the new Shadow Blade weapon. A perfect match for Multiplayer's new modes like Prop Hunt and Capture the Flag.
Strike from the shadows.

Operation Spectre Rising introduces Spectre as the latest Multiplayer Specialist and Blackout character. Drop into the Wetworks Map Update, unlock new weapons, take on new Zombies Gauntlets, and much more. #BlackOps4 pic.twitter.com/XVXwAh27iQ

— Call of Duty (@CallofDuty) April 29, 2019
The Blackout map also gets a Wetworks update but don't mistake it for some rain and small splashes. The Hydro Dam has burst and now the map is flooded. On the upside, that means you can zip around on rafts.
There are also a bunch of other goodies, including new gauntlets for Zombies, new Multiplayer maps based on real-world locations like Artifact (Iceland) and Masquerade (Bangladesh). And what update would be complete without new weapons, customization items, outfits, and even gestures.
Call of Duty Black Ops 4: Operation Spectre Rising is out now for the PlayStation 4. Black Ops Pass owners immediately get the three new Multiplayer maps. Launch dates for Xbox One and PC haven't been announced but those should follow in about a week's time.