Calibur11 Makes Case Mods a Snap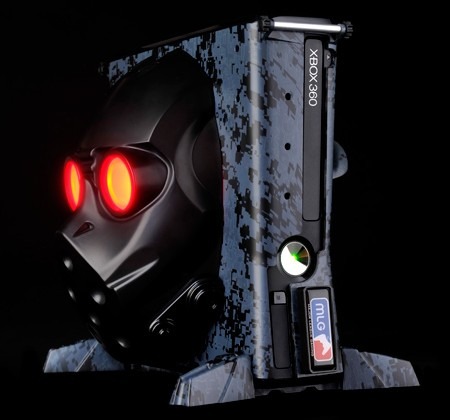 Ever since the creation of consoles, gamers have been modifying their systems for multiple reasons. Some were seeking more performance, others were unlocking game secrets, or some just wanted to make their console look cool. Calibur11 delivers on the latter. They have some killer designs that can totally change the look of your Xbox, and there are some mods for Wii and PS3 in the works.
The case mods come in the standard bright colors like red and green, but they also have a licensed mod, (we would love to see more licensed gear). The components do not alter the console, so no need to worry about voiding the warranty or being banned from the on-line community. Calibur11 calls the mods Vaults, and they go over the console. We were initially skeptical of a wrap-around skin. We thought it would cause system overheating, but Calibur11 states the Vault will actually help protect the console from damage and increase air flow to allow better cooling.

They also offer customizable name plates, (free with Vault purchase). They are available in 10 custom colors like machine gun rounds or tribal swirl pattern. You can have you name or any other text printed. How many characters you get is determined by the font and font size you choose. The standard colors of black, white, gray, red, blue, and green retail for $59.99, while the licensed Vaults run $89.99. We like what we see, we just wish they had more selection. Not everyone wants to trick out their console, but these Vaults look way more legit than some of the stickers and spray paint we've seen. Have a look at a collection of case mods Caliber11 have done in the past: