Cadillac XTS Gets Vibrating Safety Seat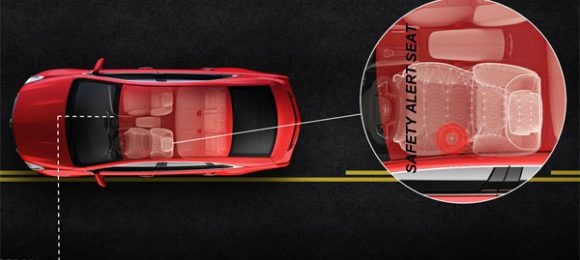 GM has announced that its new Cadillac XT is luxury sedan, which will go into production this spring, is set to get what GM claims to be the industry's first vibrating car seat offering tactile sensation. The point of the vibrating seat is to warn the driver of crash threats while driving and parking. The seat is called the Cadillac Safety Alert Seat and will generate vibrating pulse patterns on the left and or right side of the lower bolster of the seat.
If a threat is in the front or back of the vehicle, the vibrating motors will pulse on both sides of the seat. The seat works in conjunction with other technologies such as visual alerts and presumably audio alerts that are common in vehicles already. The vibrating seats are part of the Cadillac Driver Awareness and Driver Assist packages. The Driver Awareness Package includes a forward collision alert system, lane departure warning, side blind zone alert, and rear cross traffic alert systems.
The interesting part of this to me is with the research that surfaced this week on vibrating steering wheels to deliver tactile feedback for navigation. The seat could be wired to the navigation system to vibrate on the left or right sides to alert the driver where to turn. The system will also help make parking easier. I wonder why GM didn't design the seat where it can vibrate in the back or the front of the lower seat section to indicate front and rear threats more clearly. It's worth noting that Cadillac is apparently not the first to have this feature, Citroen has had a very similar vibrating mechanism for seats as far back as 2006 for lane departure warnings that are directional as well. Those vibrating seats are available on the current Citroen C5.