Caavo Control Center is a universal remote do-all media system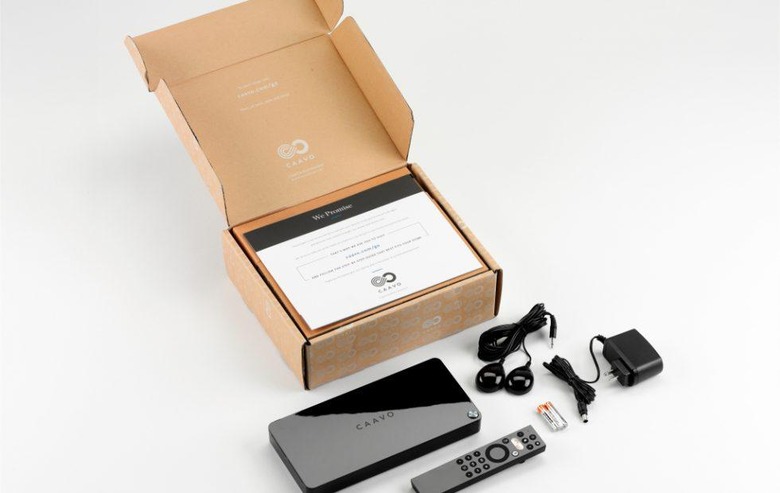 This week the folks at Caavo revealed a device that'll control ALL your stuff. Not your smart home stuff – this isn't about lights or sensors or anything – this is for your TV and your varied media-output devices. Caavo can connect your TV to your Amazon Fire TV (or better yet NVIDIA SHIELD TV) or Apple TV, set-top boxes of many sorts, gaming consoles like Xbox One and PlayStation 4, and whatever other oddities you've got delivering signal via HDMI.
Caavo Control Center is a box into which you plug all your media devices. It comes with a controller that, if lost, can be called with a button on the box. Once connected, Caavo has a Control Center from which all media can be accessed.
In the Control Center, the user can access any of the connected systems you've got hooked up – and through streaming service apps like Hulu and Netflix and such. In the Control Center, Caavo delivers editorial suggestions. Caavo community members deliver hand-picked lists of things to watch, lists that are updated all the time.
If you create your own lists of items they'll be part of "My Lists" and you'll be able to share said lists with the Caavo community. This is called Crowd Surfing. This can be neat, but it's gonna start off with some real weird suggestions – as anyone can make a list right this minute.
This device has 5 HDMI ports – that's 4X input, 1x output, and it's HDMI 2.0 and HDCP 2.2. The USB port is for data online, and users can control the set with its 3.5mm IR out if they do so choose – the included remote connects via Bluetooth LE. This device connects with 2.4 and 5 GHz (802.11 2×2 ac) and Bluetooth 4.0, and 100Mbps ethernet.
Audio support includes PCM, 8 Channels, 24 bits, 192kHz, Dolby Digital, Dolby Digital Plus, Dolby TrueHD and Dolby Atmos up to 8 channels and up to 192kHz. This system also supports DTS and DTS-HD Master Audio up to 8 channels and up to 192kHz. Supported video formats in addition to HDR pass-through (HDR 10) include a max RGB/YUV444/YUV422/YUV420 4K (3840×2160) 10-bit at 60Hz.
Caavo Control Center costs around $100, then it CAN be free from that point out. But if you want universal search (across apps), voice control, editorial guides, "My Lists", Crowd Surfing, deep link content (inside apps inside systems), apps (and the launching of apps), history/privacy feature Caavo Cache, and basically everything other than controlling your other systems, that'll cost you extra. A Control Center Service Plan will cost you either around $2 a month or $20 a year.
Users will be able to purchase the $100 Caavo Control Center at Best Buy online, Best Buy stores (IRL), and through Caavo dot com starting this week. You might even be able to find the device for sale right this minute. Cross your fingers it's better than the last product Caavo delivered – see the timeline below to get a good whiff.