B&W Zeppelin Mini is cheaper, relatively speaking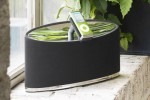 Bowers & Wilkins Zeppelin iPod dock may date all the way back to January 2008, but it's still one of the most distinctive designs in third-party Apple accessories.  What it's not is cheap, so the company has introduced a compact Zeppelin Mini that promises high-style and audio excellence but with a smaller footprint and price-tag.
Of course, when we say a smaller price-tag we're comparing that to the original Zeppelin, for which B&W still demand $599.  The B&W Zeppelin Mini comes in at $399, for which you get USB connectivity with the iPod, bypassing the PMP's own analog output stage and instead using the speaker-dock's own high-quality system.
It also means you can now sync your iPod or iPhone with a Mac or PC while leaving it in the Zeppelin Mini, plus the cradle has been redesigned to work in landscape and portrait orientations.  Power output is 2x18W and there's both a remote control and 3.5mm stereo input socket for alternative sources.